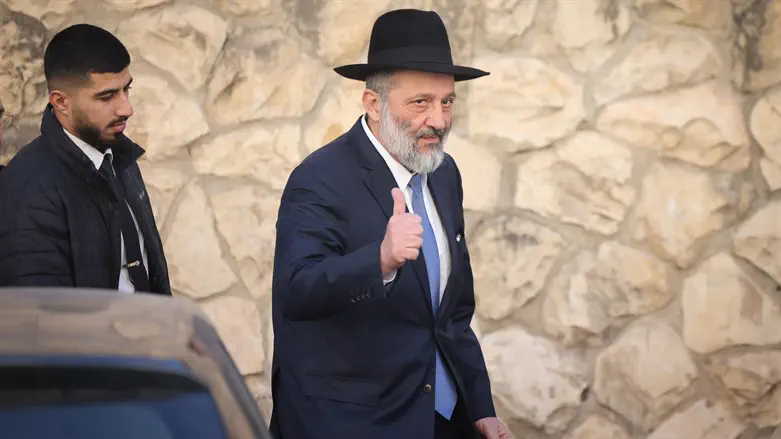 Aryeh Deri
Yonatan Sindel/Flash90
Shas chairman MK Aryeh Deri was interviewed by Channel 13 News Thursday night, his first interview since being fired from his positions as Interior and Health Minister at the order of the Supreme Court, which disqualified him from serving as a minister.
When asked if he intends to return to the government, Deri said: "With G-d's help, soon. The leaders of the coalition and the prime minister, the speaker of the Knesset, they understand that they must make amends. They knew I was going to be a senior minister in the government, they voted for me. That judges in the Supreme Court tell the Shas voters 'Did you vote for Aryeh Deri for the Knesset, not for the government'? It's like saying to Shas voters, it's extremely unreasonable that you voted for Shas, you're crazy for voting for Shas."
"We are not anarchists, we respect the law, and therefore neither I nor the Prime Minister thought for even a second of disobeying the Supreme Court's verdict. We obeyed it, but we will fix it," he said.
Deri was asked if he had considered the crime for which he was convicted, and replied: "There is no citizen in the State of Israel who, if they had applied on him the test that they did to me for six years, would not have been found guilty of such offenses of failure to report. There is no one like that. I have nothing to take stock of. I take stock of myself in front of the Master of the Universe."
"Why am I subjected to such great agony of six years of legal torture for myself and my family and end up with offenses that the judge says are on the lower threshold. What do I need to apologize for? They need to ask me for forgiveness, and atonement. Six years of complete persecution, shame and destruction. Be ashamed, say 'we were wrong'. Then you are surprised that there is a lack of trust in the legal system? There were suspicions - check them out. I did not interfere, I came when you asked, I answered all the questions. But when you see that not even a mouse was born from it - say you are sorry."
Deri was asked why he lied to the court when he promised not to return to political life as part of his plea deal, and answered: "I have never lied to the court. This is the biggest lie. Why when I ran for the Knesset did no one shout that I was breaking promises? Why weren't our poor electorates warned? The day after the plea deal I held a press conference and said that I am not retiring, I would continue to be the chairman of the Shas movement."
Deri didn't like the timing of Minister Yariv Levin's announcement of the judicial reform: "It wouldn't have changed the verdict. I'm not angry either. I'll tell you what. It hurt me and I'll tell you how it hurt me, that I was suspected, whatever you ask me now, as if I had initiated this thing, to threaten the court, and it really hurt me. I didn't know it, I was far from it. You ask me if I'm angry with him? No. Do you know why? He's so sweet, Yariv, He really doesn't act out of personal considerations, he doesn't have any political interests. I've known him for 20 years, all the time he sleeps and wakes and eats about this reform. He believes in it with complete faith, it doesn't matter if he's right or wrong. That's why he did it in the end heart."