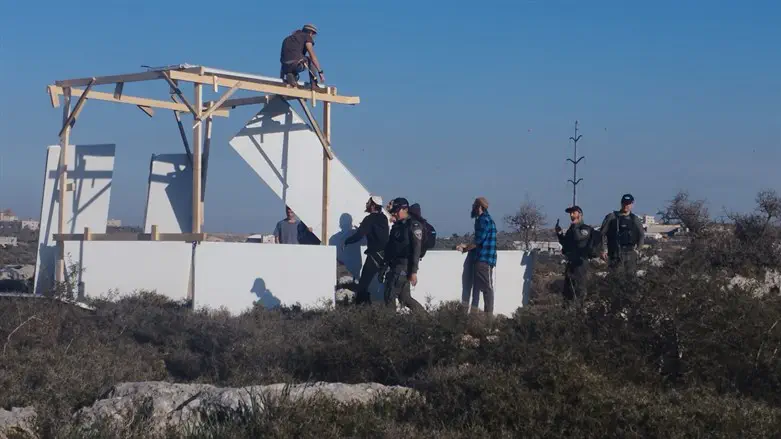 The Or Chaim outpost
Courtesy
Dozens of youth ascended the Or Chaim hill near Migdalim in Samaria Sunday morning and attempted, for the second time, to establish the outpost, which was destroyed Friday by order of Defense Minister Yoav Gallant.
Within minutes, Border Police officers were rushed to the scene and began destroying the structures and evicting the activist while detaining seven of them, who are currently in custody.
Or Chaim's founding nucleus stated: "Unfortunately, Gallant chooses to continue the previous leftist government's policy, which included the harassment and persecution of the settlement movement until its bitter end, which was led by former Defense Minister Benny Gantz. The nation chose Gallant to proceed with a right-wing policy, and now it seems that he is enacting a leftist one.
We intend on continuing to take hold of the hilltop, even if we will be evicted again and again, even 100 times. The fight for Judea and Samaria is at its height, and we cannot give up for a moment. We call on the whole nation of Israel to come and join us."
On Friday, Jewish settlement activists erected a number of structures on a hilltop adjacent to the existing town of Migdalim in Samaria overnight, dubbing the outpost "Or Chaim," in honor of the late Religious Zionist spiritual leader, Rabbi Chaim Druckman.
A few hours later, the Defense Ministry's Civil Administration declared the area a closed military zone and ordered the immediate destruction of the structures.
The demolition was launched despite orders by National Security Minister Itamar Ben-Gvir (Otzma Yehudit) and Minister in the Defense Ministry Bezalel Smotrich (Religious Zionist Party).