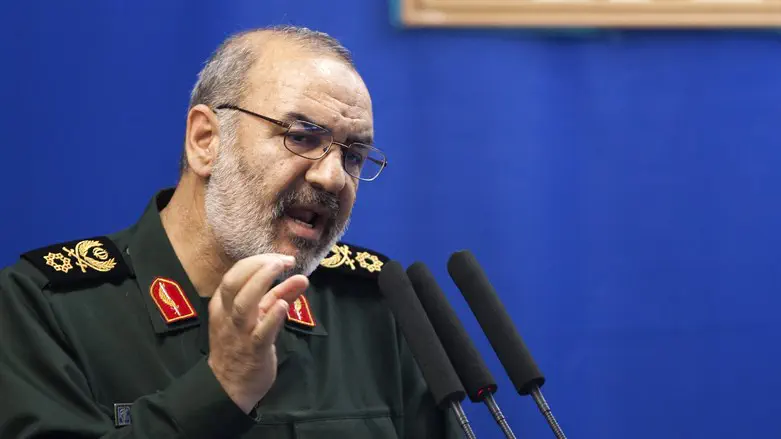 Hossein Salami
Reuters
Iran's Islamic Revolutionary Guard Corps on Saturday warned the European Union against making a "mistake" by listing it as a terror group, AFP reported.
"If the Europeans make a mistake, they must accept the consequences," IRGC chief Major General Hossein Salami was quoted as having said.
The European Union "thinks that with such statements it can shake this huge army", Salami said.
"We are never worried about such threats or even acting on them, because as much as our enemies give us a chance to act, we act stronger," he added.
Salami's comments came three days after the European Parliament called for the EU to list the IRGC as a terrorist organization, blaming the force for the repression of protesters and the supply of drones to Russia.
A total of 598 members of the parliament voted in favor, while nine voted against and 31 abstained.
The vote is non-binding but comes with EU foreign ministers already due to discuss tightening sanctions on the Islamic Republic next week.
Iran, in response, warned on Thursday that the European Union would "shoot itself in the foot" if it designated the IRGC as a terrorist entity.
"We have repeatedly said the Revolutionary Guards are a formal and sovereign organization whose role is central for guaranteeing Iran's security," Iran's Foreign Minister, Hossein Amir-Abdollahian, said during a phone call to the EU's High Representative for Foreign Affairs, Josep Borrell.
"Steps taken by the European Parliament to list the organization as terrorist are in a way a shot in the foot of Europe itself," he added.
The United States has already placed both the IRGC and its foreign arm, the Quds Force, on its list of "foreign terrorist organizations".