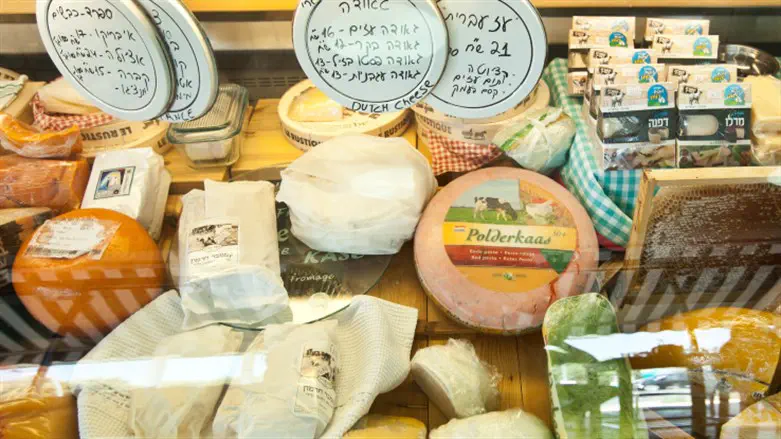 Cheese (illustrative)
Moshe Shai/Flash90
In another measure designed to lower prices for Israeli consumers, Finance Minister Bezalel Smotrich has signed an order to abolish import duties on various cheese products. Cancellation of these tariffs should reduce prices in Israel's stores and also potentially increase the variety of dairy products available.
The new policy will apply to all cheeses whose fat content is greater than five percent. To date, such cheeses have been taxed by either 13.21 or 8.32 shekels per kilogram for sheep's milk cheese, and either 8.04 or 8.32 shekels per kilogram for non-sheep's milk cheese.
These duties will be partially abolished immediately, with full abolition postponed until January 1, 2024.
Import duties on fresh mozzarella cheese are also to be abolished in stages, over five years. To date, mozzarella has been taxed at a rate of 8.04 shekels per kilogram or 8.32 shekels per kilogram for other types of mozzarella.
Halloumi cheese is also to have its import duty cancelled from the 8.32 shekels per kilogram it is currently taxed at. Jamid cheese (from sheep's milk yogurt) will also have its 4.10 shekel per kilogram tax cancelled.
All the tariff cancellations are being made in conjunction with the Agriculture Ministry.
"We are continuing our battle against the high cost of living and it's a battle that we will win," Smotrich said on Thursday. "Cancelling import duties on a range of cheeses will introduce competition into the market which will in turn lead to lower prices. Israeli citizens are groaning under the burden, and the first steps we are taking include a bar on price rises and now, opening up the market to competition. Competition leads to lower prices. These are the policies I am bringing to the Finance Ministry - and this is just the beginning."