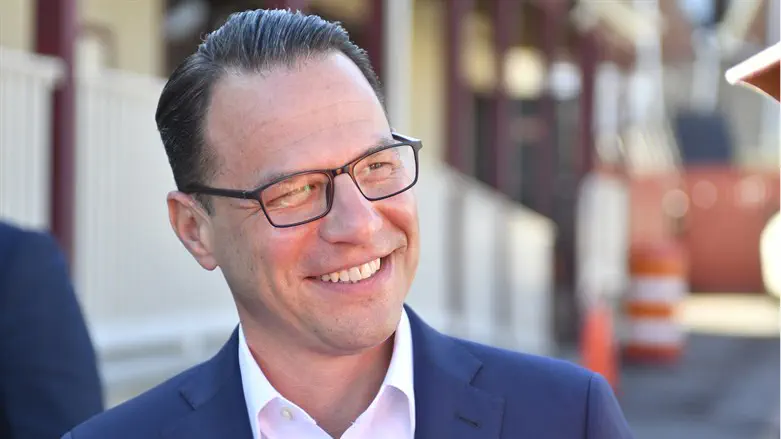 Josh Shapiro
Bastiaan Slabbers via Reuters Connect
Jewish Democrat Josh Shapiro was sworn in as Pennsylvania's 48th governor on Tuesday, putting his hand on three Hebrew Bibles during the inauguration.
Earlier in the week, it was reported that one of the Bibles had belonged to a Jewish US Army soldier fighting in World War II who participated in the landing on Omaha Beach with the 1st Infantry Division on D-Day.
The Bible was borrowed from the Weitzman National Museum of American Jewish History. It was owned by a young man named Herman Hershman from Philadelphia, KYW Newsradio reported.
Hershman was a 19-year-old Temple University student when he enlisted in the Army in 1943. The Bible was in his possession during D-Day.
"Hershman carried the Bible with him throughout his time serving our country in World War II and then returned to Philadelphia," museum curator Josh Perelman said.
The oath of office was administered by Chief Justice Debra Todd outside the Capitol in Harrisburg, with guests including Senators Bob Casey and John Fetterman, Congress members and a crowd of several thousands, according to the Associated Press.
"I am humbled to stand before you today as Pennsylvania's 48th governor," Shapiro said. "Along the winding road that has led to this moment, I have been grounded in my faith and family."
He gave a 23-minute speech accompanied by his wife and four children.
He also had over a dozen guests on stage with him, including parents of children killed by gun violence and the widows of two state troopers who died in the line of duty.
"Your stories, your courage have stayed with me. And, they will motivate me every day as I serve as your governor," Shapiro said.
His speech marked a bipartisan tone with the states' government divided. Republicans have six-seat majority in the state Senate, with Democrats controlling the state House.
"Now is the time to join together behind the unifying strength of three simple truths that have sustained our nation over the past two-and-a-half centuries: that above all else, beyond any momentary political differences, we value our freedom, we cherish our democracy and we love this country," Shapiro said.
Along with the Bible that had belonged to Hershman, the second of the Bibles used for Shapiro's swearing in was his family Bible. The third was from Pittsburgh's Tree of Life Synagogue, where in 2018 the worst antisemitic attack in American history killed 11 congregants.