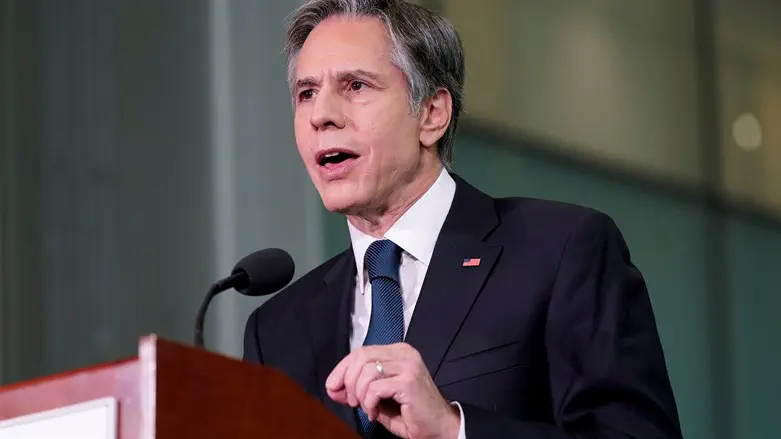 Antony Blinken
Reuters
US Secretary of State Antony Blinken on Tuesday said he was surprised to learn that any government records were taken to President Joe Biden's former University of Pennsylvania Washington office and said he would cooperate fully if called for an interview by the special counsel, The Hill reports.
Blinken, speaking during a joint press conference with Britain's foreign secretary, said he had no knowledge of government records discovered at the Penn-Biden Center at the University of Pennsylvania, where he served as managing director.
"The short answer is no," Blinken said in response to a question if he was aware of any reason why classified documents would have been packed and brought to the center while he was there.
"Just as you heard from President Biden, about a week ago, I was surprised to learn that there were any government records taken to the Penn Biden Center," the secretary continued.
"I had no knowledge of it at the time. The White House, of course, has indicated that the administration is cooperating fully with the review that the Justice Department has undertaken, and I of course would cooperate fully with that review myself."
Blinken served as the center's managing director in 2018.
Last week, a White House lawyer said that a "small number of documents" with classified markings that are tied to Biden and appear to be from the Obama administration are under review by the Justice Department and National Archives.
Two days later, it was reported that aides to Biden discovered at least one additional batch of classified documents in a location separate from the Washington office he used after leaving the Obama administration.
The White House on Saturday said it had discovered five additional pages of classified documents at Biden's home on Thursday, the same day a special counsel was appointed to review the matter.
The discovery of the documents at the Washington office was on November 2. But the White House did not disclose the findings until after they were reported by CBS News last week.
Biden commented on the initial findings for the first time on Tuesday, telling reporters he was "surprised" that the documents were found.
The President added that his attorneys "did what they should have done" when they immediately called the National Archives about the discovery.
House Republicans are demanding that the White House turn over all information related to its searches that have uncovered the classified documents.