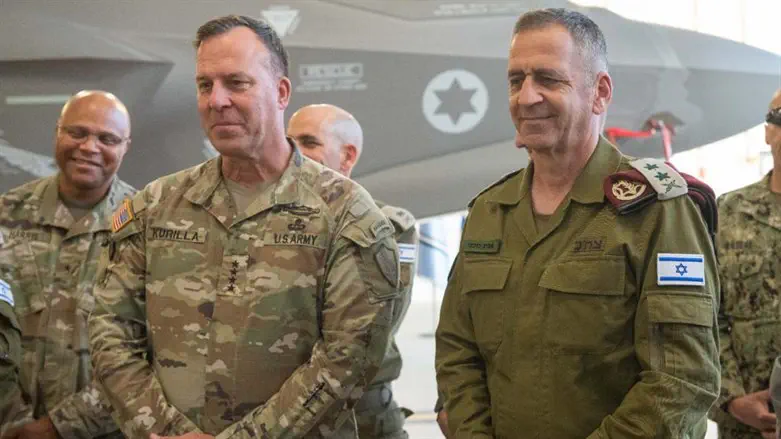 Michael "Erik" Kurilla and Aviv Kochavi
IDF Spokesperson's Unit
The head of US Central Command (CENTCOM), General Michael "Erik" Kurilla, on Monday congratulated outgoing IDF Chief of Staff Aviv Kochavi, whose term in office concluded.
CENTCOM said in a statement that Kurilla lauded Kochavi on an incredibly successful four-year command and a remarkable 40-year career of service to the IDF.
"General Kohavi expanded, deepened, and advanced the relations between our militaries and fostered new partnerships in the region," Kurilla said. "In these efforts Aviv bolstered security and stability across the region."
Under General Kochavi's leadership, Israel realigned from US European Command to US Central Command in 2021, the statement noted.
General Kurilla also welcomed Lieutenant General Herzi Halevi, the new IDF Chief of General Staff, on his appointment.
"I look forward to continuing to strengthen the partnership between our militaries and with forces throughout the region alongside General Halevi. He has a long and distinguished career as a warfighter leading the IDF's most elite units. I am confident he will strengthen the relationship between our militaries and continue efforts on behalf of the region," said Kurilla.