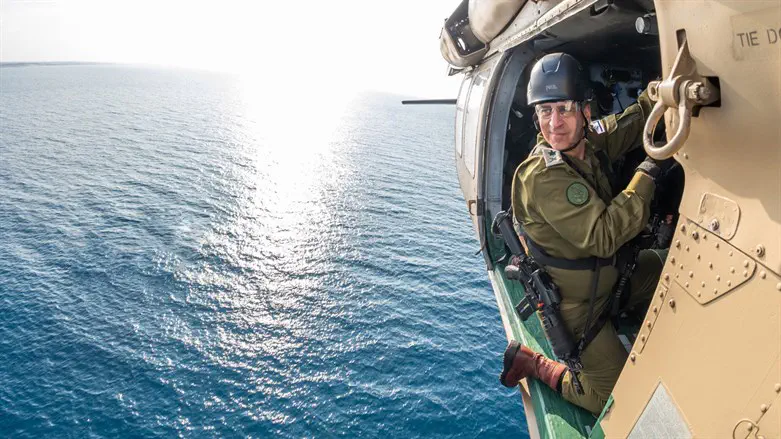 Aviv Kochavi
IDF Spokesperson
IDF Chief of Staff Lieutenant General Aviv Kochavi will end his 40-year military service on Monday and join civilian life. Right before that happens, he spoke with Israel National News, looked back on his long career, and discussed some of the most burning topics in Israeli society today.
In the beginning, Kochavi is asked if the big schism in Israeli society these days is also felt in the IDF. His answer is no. "I am the commander of the military, and I only deal with what happens in the military with its soldiers and commanders. We are very proud that the IDF has a unified goal, friendship, and fraternity. The military builds true friendships that last a lifetime, and the IDF's contribution in that regard is even more significant than defense and its ability to stop threats from Gaza or on the northern front. I am very optimistic about society, especially after what I've seen in the military.
Kochavi does not hide his opinions regarding the enlistment of the haredi community to military or national service. "We would be delighted to welcome any young haredi man and even woman, and there are already those in the IDF, to our ranks. We need them. If we had an additional 2,000 combat soldiers, another thousand intelligence men, and an additional thousand communications specialists, that would strengthen the military.
According to Kochavi, "A soldier in the IDF, no matter if he's secular or haredi, receives values and abilities that they did not have as a civilian, such as mission-oriented abilities, the ability to work under pressure, teamwork, decision making, and acclimation. This empowers people and prepares them for life. The haredim will also gain from this."
Lt. General Kohavi was asked about the period before the 2005 disengagement from the Gaza Strip. During that difficult period, Kochavi did not give up on his connection, which would not be simple, with the Jewish residents of the strip, who he knew well. During those trying days, he went from home to home and, at times, even cried with those who were forced out of their homes. He remembers that period well. "I was sent to command the Gaza area from one day to the next, and in a short time, my connection with the residents got closer, and I'm still in contact with some of them today. The experience was challenging. I understood them then, and I understand them now.
I thought that we needed to comfort them in any way possible during this challenging incident, and even if it wasn't my formal obligation, that didn't matter to me. Our job was to protect the area, but at the end of the day, we served as a bridge between the state and the residents, and I hope we did our part in making this challenging event easier, even if only a little.