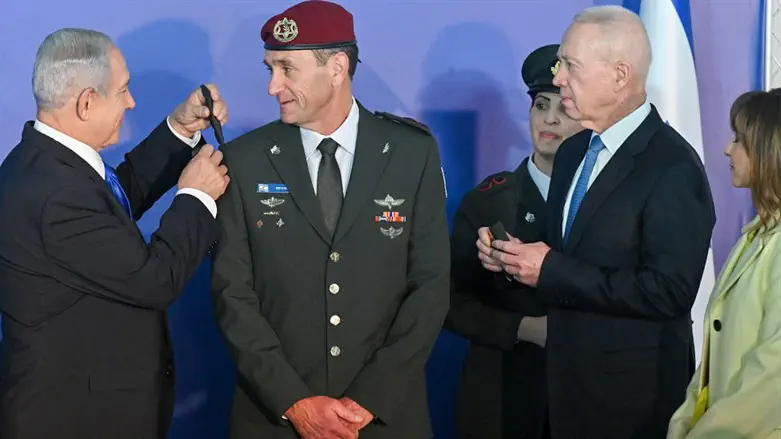 Halevi promoted to Lieutenant General
צילום: קובי גדעון /לע"מ
Prime Minister's Office in Jerusalem held a ceremony Monday morning, marking the end of IDF Chief of Staff Aviv Kochavi's term as the country's senior military commander.
At the ceremony, which began at 10:00 a.m. Monday, Kochavi was joined by his successor, Major General Herzi Halevi. Prime Minister Benjamin Netanyahu and Defense Minister Yoav Galant promoted Halevi during the ceremony to the rank of Lieutenant General.
"Only someone who has served as IDF Chief-of-Staff knows the responsibility that the Chief-of-Staff bears," Netanyahu said.
"Our assumption that everything is already in place here, that everything is certain and complete – this is not the case. There is a certain apprehension in our existence and at the end of the day we live here thanks to the IDF, without which there is no existence."
Halevi and Kochavi are slated to visit the Mount Herzl military cemetery, the Western Wall, and the presidential residence Monday.
Halevi, 55, is the 23rd IDF chief of staff, and the first Orthodox Jew to serve in the position. He resides in Kfar HaOranim, an Israeli town in western Samaria.
Appointed by then-Defense Minister Benny Gantz last September and confirmed by the Lapid government last October, served as deputy chief of staff, and previous served as chief of the IDF's Southern Command as well as chief of the Military Intelligence Directorate.
A native-born Jerusalemite, Halevi's father is the son of Haim Shalom Halevi (Gordin), who fought for the Irgun underground before the founding of the state of Israel, and Tzila, the daughter of Dov Ber Kook, and niece of Rabbi Avraham Yitzhak Hakohen Kook.
Herzi was named after his uncle, Herzel, who was killed during the Six Day War during the battle for Jerusalem.
A father of four, Herzi holds a BA in philosophy and business management and a MA in national resource management from National Defense University in Washington DC.