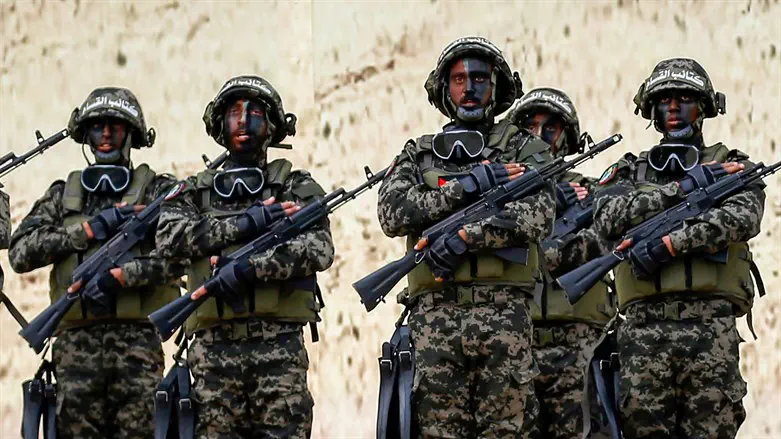 Hamas terrorists
Flash 90
A bipartisan bill submitted by two Congressmen late last week seeks to sanction all financial backers of Hamas.
The Hamas International Financing Prevention Act was passed by the previous Congress and re-introduced this past Wednesday by Reps. Brian Mast (R-FL) and Josh Gottheimer (D-NJ).
"There's a reason why we call Israel our strongest ally. We share the same ideals of freedom, democracy, and mutual respect for all people. That's why I fight for policies in Congress that will strengthen Israel and, in turn, bolster our own national security," Mast said in a statement, adding, "One of the biggest threats to Israel - and to those shared values - is Hamas."
"Hamas has launched tens of thousands of missiles into Israel, indiscriminately killing hundreds of men, women, and children. The continued aggression has rightly earned Hamas a global terrorist organization designation from the United States," noted Mast.
"That, however, does not go far enough to neutralize the threat these Islamic extremists pose to Israel. That is why today, I introduced a bipartisan bill that would sanction all financial backers of Hamas, the Palestinian Islamic Jihad, or their affiliates: the Hamas International Financing Prevention Act. Any person, group, or government who supports Hamas is complicit, and the US should not reward them with aid or access to our economy."
Mast said the bill passed the House in the previous Congress as a part of the National Defense Authorization Act, but unfortunately removed from the bill by the Senate.
"However, the bipartisan support it has received in the House shows us that we have the momentum to get it to the President's desk to become law," he continued.
"The Hamas International Financing Prevention Act sends a strong message that the United States will not tolerate anybody who supports these terrorists. It's about confronting hate and standing with our allies. Period," concluded Mast.
The bill would require the President to submit to Congress an annual report for the next three years identifying "foreign persons, agencies or instrumentalities of a foreign state who knowingly and materially assist Hamas, the Palestinian Islamic Jihad, or an affiliate or successor of one of those organizations."
After identifying the organizations, the President must impose two or more sanctions, including denying export-import guarantees or seizure of property held within the United States.
If signed into law, it would also require the President "to report to Congress on each government that provides support for acts of terrorism and provides material support to Hamas, the Palestinian Islamic Jihad, or any affiliate or successor organization, or the president determines to have engaged in a significant transaction to knowingly and materially provide support to Hamas, the Palestinian Islamic Jihad or any affiliate or successor organization."