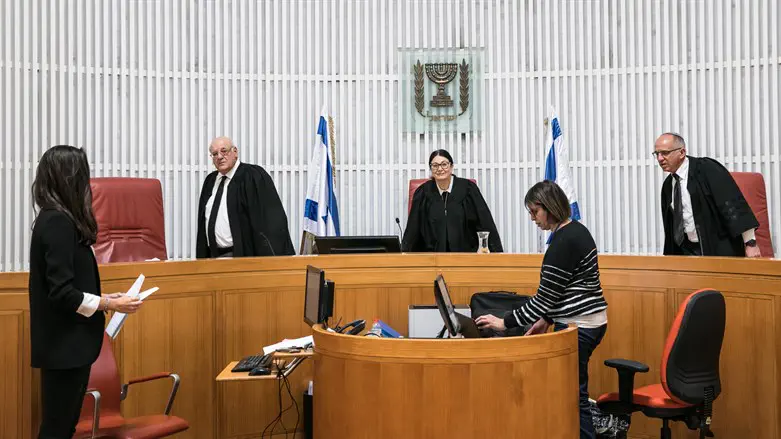 Israeli Supreme Court
צילום: Yonatan Sindel/Flash90
Public trust in Israel's public institutions has fallen dramatically in recent years, a new study shows, falling to the lowest level on record.
According to a study published by the Israeli Democracy Institute on Sunday, drawing on polling data collected by the Midgam Institute, the report found that aside from the army and the presidency, trust in every major public institution in Israel has fallen dramatically.
Twenty years ago, 59% of Israelis – including both Jews and Arabs – had faith in Israel's national institutions as a whole.
While that figure dipped significantly in 2007 and 2008, coinciding with the resignation of then-President Moshe Katzav amid rape allegations and a corruption case which brought down the Olmert government, it returned to its previous heights in the following years, with 60% of Israelis trusting national institutions in 2011, rising to 61% in 2012.
But public trust again began to slide in the mid-2010s, falling to 41% by 2018, before plateauing till the end of the decade.
Last year, however, the poll found just 34.5% of Israelis trust public institutions in general, far below the 47.8% average for the past twenty years.
Among Israeli Jews, declines in public trust were reported for all eight institutions included in the study (the IDF, the presidency, the Supreme Court, the police department, the Government of Israel, the media, the Knesset, and political parties).
Only the IDF and the presidency remain above 50%, with significant declines recorded in levels of trust towards all six of the other institutions.
While 85% of Israeli Jews have trust in the military, compared to 88.1% for the average of the past two decades, trust in the country's supreme court fell from 59.5% to 42% in 2022.
Trust in the presidency slide by 4.9 points, from 66.9% to 62%, while trust in the police tumbled from 48% to 35%.
Israel's political parties, which already were trusted on average by just 21% of Israeli Jews during the past twenty years, now enjoy the trust of just 8.5% of the population.
The government, media, and Knesset fared slightly better, but saw greater absolute declines in trust, with less than a quarter (24%) of the public trusting the government, down from an average of 37.5%; 23% trusting the media, down from 37.3%; and 18.5% trusting the Knesset, down from 36.1%.