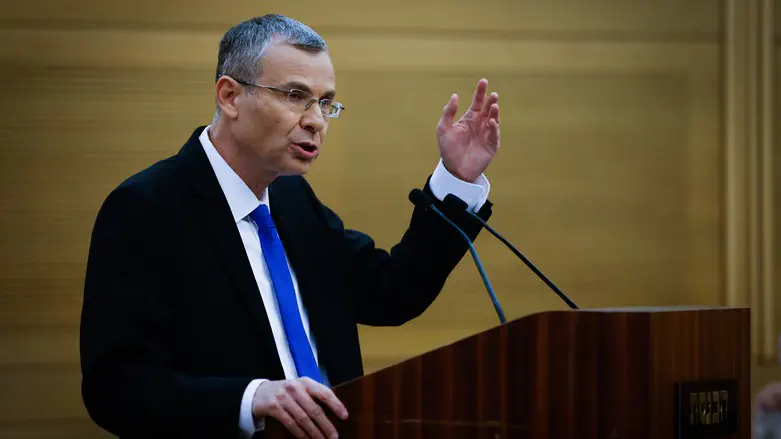 Yariv Levin
Olivier Fitoussi/Flash90
Justice Minister Yariv Levin responded Thursday evening to Supreme Court President Esther Hayut's unusual and harsh criticism of his proposed judicial reforms.
"This evening something happened - it turns out that there is another party in Israel, a party that did not run in the elections that took place, a party that placed itself above the Knesset - above the decision of the people," Levin began.
"Tonight we heard rhetoric which is familiar from the 'Black Flag protests. It's the same political agenda, it's the same call to set the streets on fire. We didn't hear statesmanship, we didn't hear neutrality. We did not hear a balanced legal position. We heard statements by politicians inciting protesters, '' he said.
Levin suggested that the President of the Supreme Court is siding with the opposition: "The automatic opt-in of the honorable Honorable President of the Supreme Court, in the exact same words of Yair -, Yair Lapid and Yair Golan is the best proof of how the judicial system has lost its way and the need to return it to the place it was in the days of the legal giants Landau and Agranat."
"There is no functional Western democracy in which the judges choose themselves and interfere with Basic Laws on their own accord. In no other democratic country are there legal advisers who are above the government and decide for it.
"As President Hayut said, democracy is not just the rule of the majority. This important principle as well as the duty to protect the rights of the minority also stand at the foundation of the reform I presented. The reform includes, among other things, authority for the Supreme Court to invalidate laws with a special majority and gives judges adequate representation in the committee for the selection of judges.
''But, democracy is not the tyranny of the minority, which imposes its values on the majority through its control of the legal system. The rule of the judge is the opposite of a functional democracy. The reform I presented will return Israel to being a functional Western democracy like all other countries. It will ensure a diverse judicial system that reflects the entire nation. A judicial system that enjoys public trust that does not descend into the political field.
Levin emphasized: "I am obliged to hold a comprehensive dialogue with the representatives of all sections of the people in order to reach the best and most balanced result. Millions of citizens, and I am among them, are determined to restore the balance between the government's branches and restore trust in the legal system in Israel.''