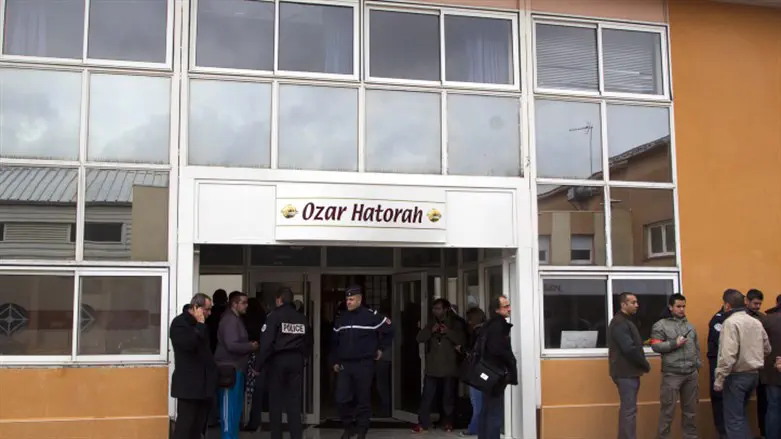 Ozar Hatorah school in Toulouse
Flash 90
A French soccer team has condemned a fan for wearing a shirt honoring a terrorist.
Toulouse FC denounced the jersey and distanced itself from the custom shirt's creation. The fan was pictured wearing the jersey, with the name of terrorist Mohammed Merah, in a photo that was posted to social media over the weekend, the Jewish Chronicle reported.
Merah was a terrorist who admitted to several shooting attacks in France in March 2012, in which seven people were murdered, including three children, with five others wounded. He targeted teachers at the Ozar Hatorah Jewish school in Toulouse and French Army soldiers. Merah died in a police standoff.
Merah filmed the terror attacks with a GoPro camera, stating he was attacking the Jewish school because "the Jews kill our brothers and sisters in Palestine."
The photo of the fan wearing the Merah jersey was discovered by Toulouse supporters on social media. They reported the photo to the team office.
In response, Toulouse issued a statement denouncing the jersey, which it stressed was not official merchandise from the team's store.
"A photo of a [Toulouse FC] jersey, with abject and shameful flocking, is circulating on Twitter. [Toulouse FC] protests against this content, reported it as soon as it became aware of it, and affirms that the said jersey was not processed by the teams of the official Club stores," the team said on Twitter.