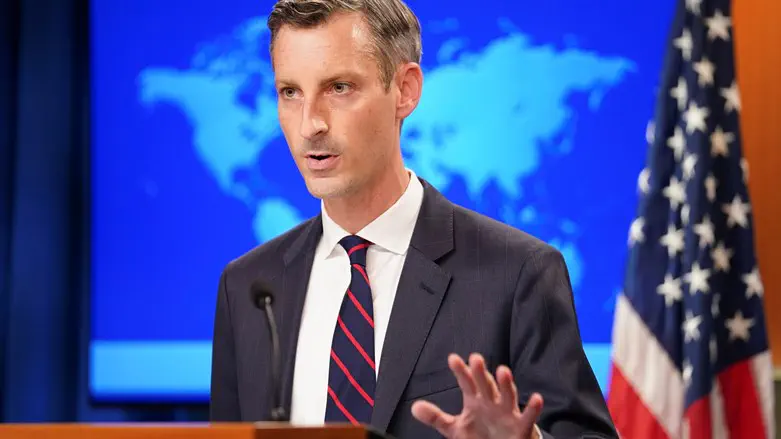 Ned Price
REUTERS/Kevin Lamarque/POOL/File Photo
State Department spokesperson Ned Price said on Monday that Israel's sanctions on the Palestinian Authority (PA), in response to its anti-Israel bid at the UN, "have served to exacerbate tensions".
Asked by a reporter during his daily briefing if he had any comment on the Israeli sanctions, Price replied, "We have been consistent in our own strong opposition to the request for an ICJ advisory opinion concerning Israel. We've talked about that before, including last week. We believe this action was counterproductive and will only take the parties further away from the objective of a negotiated two-state solution. We are seeking both sides to take steps to move them closer to a negotiated two-state solution."
"We've also been clear that Israelis and Palestinians alike, equally, deserve to live in safety, in security. They deserve equal measures of freedom, of dignity, justice, and prosperity as well. And we'll continue to encourage all parties to refrain from unilateral actions that threaten the viability of a two-state solution and the path towards direct negotiations," he added.
Pressed on whether he would urge the Israelis to release the money that they held from the PA, Price said, "We have continued to make the point that unilateral actions that threaten the viability of a two-state solution, unilateral actions that only exacerbate tensions – those are not in the interests of a negotiated two-state solution."
The reporter continued to press Price on the issue, asking him whether he thought both the PA's move at the UN as well as Israel's response were counterproductive.
"Well, this is part of the reason why we've opposed the Palestinian move when it comes to the ICJ, knowing that it could potentially only serve to increase tensions. That is exactly what has happened," Price replied.
The reporter continued to push the issue, asking Price whether the Israeli response to the ICJ referral was a unilateral move as well. The spokesperson replied, "It is fair to call it a unilateral response. We wish – we discouraged publicly the Palestinians from moving forward with this ICJ opinion because we didn't want to see tensions exacerbated."
"We have private discussions – we have private discussions with our Israeli partners as well. It is clear that these steps have served to exacerbate tensions. This is not in the interests of a long-term negotiated solution," added Price.
On Friday, Israel announced of a package of sanctions targeting the PA in response to its bid to convince the United Nations General Assembly to back an International Court of Justice case against Israel.
The sanctions include a freeze on all Palestinian Arab construction in Area C of Judea and Samaria - including a crackdown on illegal construction - and the seizing of 139 million shekels of tax funds collected by Israel from PA workers on behalf of the PA. The money will be transferred to a fund for Israeli victims of Palestinian Arab terrorists.
The PA condemned the new sanctions, saying the measures will not prevent it from fighting "Israeli occupation"
A day later, Defense Minister Yoav Galant ordered that the entry permits of three senior PA officials be rescinded after they entered Israeli territory to visit the home of terrorist Karim Younes, who was released from prison last week after serving 40 years for the murder of IDF soldier Avraham Bromberg in 1980.