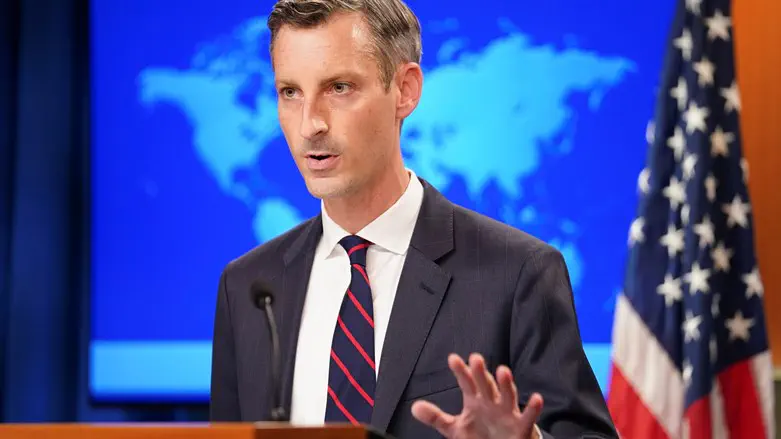 Ned Price
REUTERS/Kevin Lamarque/POOL/File Photo
US State Department spokesman Ned Price told reporters that the Biden Administration is "extremely concerned" by the battle between the IDF and terrorist forces in the city of Shechem (Nablus) in which at least nine terrorists were killed and 102 people were reportedly injured.
Price said that "10 Palestinians, including both militants and civilian bystanders, were killed and over 100 were injured."
"We wish a speedy recovery to those injured and our hearts go out to the families of the innocent bystanders who were killed today," Price said. "We recognize the very real security concerns facing Israel. At the same time, we are deeply concerned by the large number of injuries and the loss of civilian lives."
He added: "We had productive conversations in recent days with the parties and with US regional partners in support of efforts to prevent further violence. We are deeply concerned that the impact of today's raid could set back efforts aimed at restoring calm for both Israelis and Palestinians."
"Today's events further underscore the urgent need for both sides to work together to improve the security situation in the West Bank. We also call on all parties to desist from actions, such as incitement to violence, evictions of families from their homes, demolitions, settlement advancements and the legalization of outposts. Israelis and Palestinians equally deserve to live in safety and security," Price said.
On Wednesday morning, IDF soldiers, Border Police officers, and members of the elite Yamam special forces unit took part in an operation in the Kasbah of Shechem.
Terrorists opened fire on the Israeli forces, who responded in kind. Nine terrorists were killed in the gun battle, including two who were involved in the murder of Staff Sergeant Ido Baruch. The 21-year-old soldier was shot and killed by terrorists last year near the town of Shavei Shomron in Samaria.
The terrorists who were killed included senior members of the Islamic Jihad terrorist organization, as well as terrorists from several other organizations.
During the battle, Israeli security forces attempted to avoid causing civilian casualties.
The IDF published documentation from the scene showing a soldier declaring that he would not fire at an armed terrorist because a child was behind the terrorist.