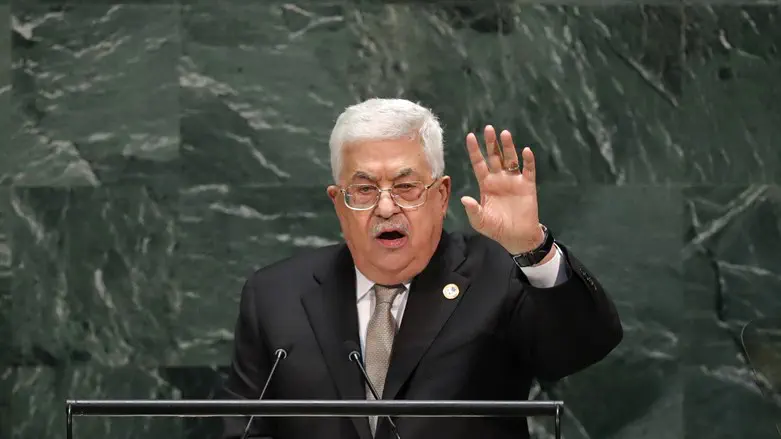 PA chairman Mahmoud Abbas
Reuters
The Palestinian Authority (PA) on Friday condemned the new sanctions imposed on it by Israel, saying the measures will not prevent it from fighting "Israeli occupation"
In a statement, the PA's foreign bureau said "these measures are a reflection of the Netanyahu government's racist colonial platform against our people, a flagrant violation of Israel's obligations as an occupying power, and a persistence in Israel's rebellion against international law and signed agreements."
It stressed "that these and other measures will not discourage our people and our leadership from continuing the struggle and the political, diplomatic and legal action to provide international protection for our people and to put an end to Israel's continued impunity from accountability, on the way to forcing it to end its occupation of the land of the State of Palestine."
The bureau called on the US administration "to seriously intervene to stop the implementation of the Netanyahu government's platforms that are hostile to our people and to peace."
The statement followed an Israeli announcement of a package of sanctions targeting the PA in response to its bid to convince the United Nations General Assembly to back an International Court of Justice case against Israel.
The sanctions include a freeze on all Palestinian Arab construction in Area C of Judea and Samaria - including a crackdown on illegal construction - and the seizing of 139 million shekels of tax funds collected by Israel from PA workers on behalf of the PA. The money will be transferred to a fund for Israeli victims of Palestinian Arab terrorists.
Last Saturday, the UN General Assembly voted 87 to 26 to back a resolution calling on the International Court of Justice in The Hague to rule on the legality of Israel's presence in Judea, Samaria, and eastern Jerusalem.
(Israel National News' North American desk is keeping you updated until the start of Shabbat in New York. The time posted automatically on all Israel National News articles, however, is Israeli time.)