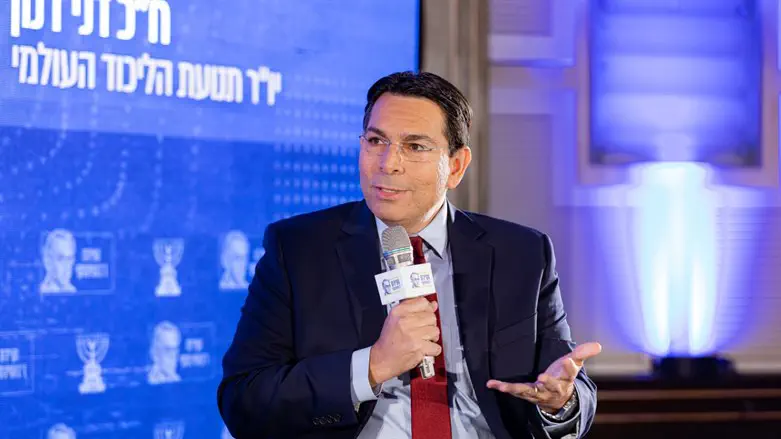 MK Danon
Haim Twito
MK Danny Danon is drafting a plan to apply Israeli sovereignty over the Jordan Valley, a move which would become the first move by Israel to extend its laws over parts of Judea and Samaria since the expansion of Jerusalem's boundaries shortly after the Six Day War in 1967.
Danon, a former Israeli ambassador to the United Nations, will not be included in the new Netanyahu government, but will instead focus on drafting right-wing legislation – including a plan to push for full sovereignty over the Jordan Valley.
The move challenges the approach favored by some coalition members, who prefer a staggered approach, starting with measures creating de facto Israeli sovereignty over parts of Judea and Samaria.
By contrast, Danon's plan would explicitly extend Israeli sovereignty over the strategic area on Israel's eastern border in a single step.
The bill is being drafted with the support of the Sovereignty Movement and Jordan Valley Regional Council chairman David Elhayani.
Danon hopes to win some Opposition backing for the bill, with Yisrael Beytenu and the National Camp said to be considering supporting such a move.
"This is a very important issue that enjoys the overwhelming support of parties and groups, and is also part of the coalition agreements, Danon told Israel National News.
"That is why I think that this is the right time. We need to start with a foreign policy move. Everyone knows the Jordan Valley will remain under Israeli control; even the Left supports that, and so I hope that we will manage to move forward with this process."
"I have heard that Liberman and others say they will support the bill, despite the fact that they did not do so in the previous government."
Anticipating criticism abroad, Danon said Israel will "deal with it, just like we dealt with the struggle over the [relocation] of the embassy to Jerusalem. There is no harm to any possible negotiated settlement because everyone knows this area will stay under Israeli sovereignty."