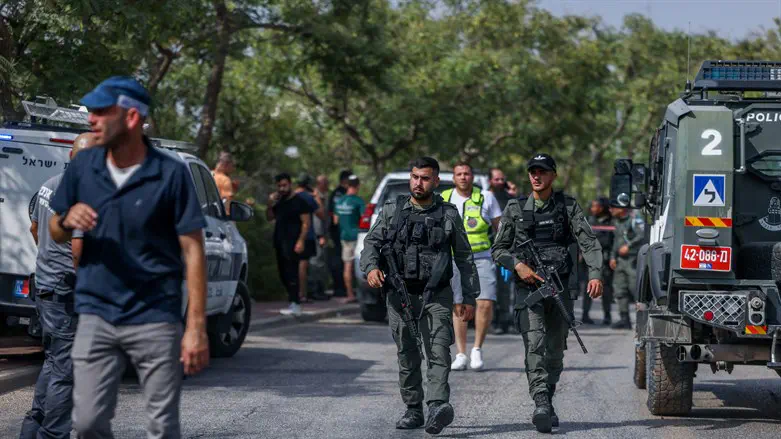 Scene of Ma'ale Adumim attack
Chaim Goldberg/Flash 90
Hamas sees the shooting attack in Ma'ale Adumim as "an act of retaliation for the damage to the sanctity of Al-Aqsa Mosque" and also "a move to thwart the Israeli intention to build the Temple."
In an interview with Hamas' Al-Aqsa TV, Hamas spokesman Hazem Qassem said that "the young rebels in Jerusalem and the West Bank continue their intifada and actions against the Zionist occupation."
"Jerusalem has always been and will always be the explosive of the revolutions, and an inspiration to carry out actions to stop the occupation's attack on Jerusalem and Al-Aqsa Mosque," he continued.
The spokesman stressed that the Palestinian fight illustrates that "the crimes of the occupation against Al-Aqsa Mosque will not go unanswered and they will be met with retaliatory actions."
"We are telling the occupation that the religious war against Al-Aqsa Mosque will not succeed," Qassem said, noting that "the extremist occupation government is waging a religious war against the holy places of Islam."
Earlier, Abdel Latif al-Qanoa, another Hamas spokesperson, welcomed the attack.
He noted that "the attacks will not stop, as they are intended to protect the Palestinian land and the holy places, and to thwart the settler government's plan to build the false temple on the ruins of the Al-Aqsa Mosque."