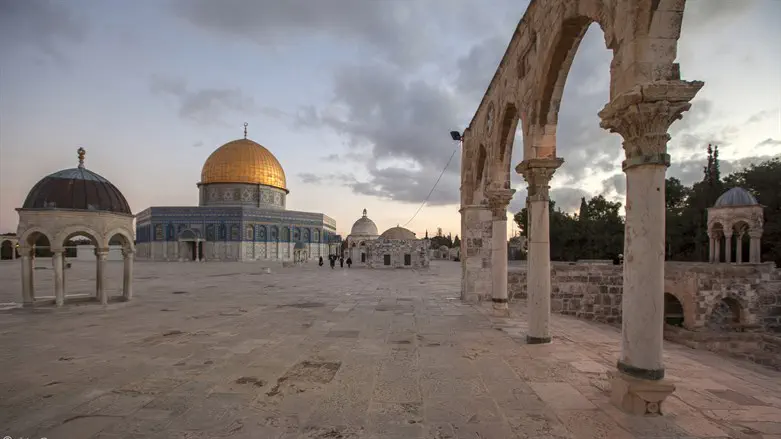 Temple Mount
iStock
Jordan's Foreign Ministry on Sunday condemned National Security Minister Itamar Ben Gvir's "incursion" into the Al-Aqsa Mosque compound, the Xinhua news agency reported.
Ben Gvir's visit to the Al-Aqsa Mosque compound, which was made under the protection of Israeli forces, "is a provocative step and a grave violation that leads to escalation," the ministry's spokesperson Sinan Al-Majali said in a statement.
"The visit breaches international law and the historical and legal status quo of Jerusalem and its holy sites," he added, demanding Israel "immediately cease all violations against the Al-Aqsa Mosque and respect its sanctity."
Al-Majali also stressed the need for Israel to stop all measures aimed at changing the existing historical and legal status quo of Jerusalem and its holy sites and to respect the authority of the Jerusalem Waqf.
The statement came after Ben Gvir visited the Temple Mount on Sunday morning under heavy police security, in honor of the beginning of the Jewish month of Sivan.
During the visit, Ben Gvir stated, "I am happy to visit the Temple Mount, the most important place to the people of Israel. I must say that the police are doing an amazing job and, again, prove who the boss is in Jerusalem. All of Hamas' threats won't help, we are in charge of Jerusalem and of all of the land of Israel."
The Temple Mount was left in the hands of the Waqf following Jerusalem's reunification in 1967, a decision of then-Defense Minister Moshe Dayan. The Waqf has taken advantage of this and removed every sign of ancient Jewish presence at the most Jewish holy site.
Police, in an attempt to appease the Waqf, discriminate against Jews. They limit the number of Jewish worshippers allowed on the Temple Mount at one time in order to prevent conflict with Muslim worshippers.
They often close the Mount to Jews in response to Muslim riots – despite evidence that Muslim riots have been planned in advance for the specific purpose of forcing Jews out.