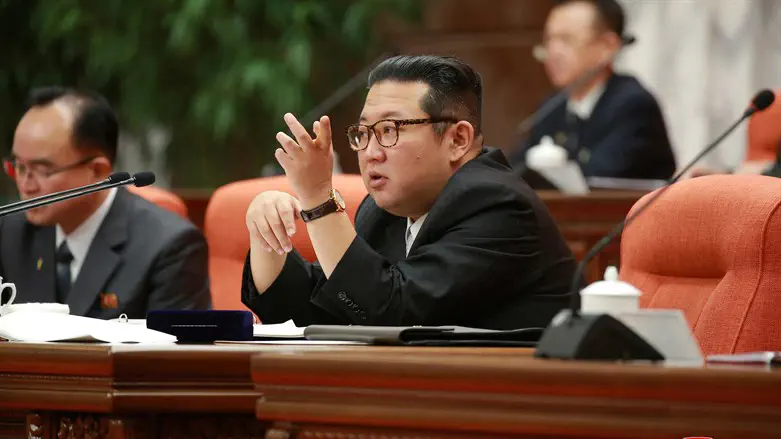 Kim Jong Un
KCNA/via REUTERS
North Korean leader Kim Jong Un has ordered the development of new intercontinental ballistic missiles and massive production of tactical nuclear weapons to counter threats from the United States and South Korea, Reuters reported, citing North Korean state media.
Speaking at a key meeting of the ruling Workers' Party, Kim highlighted the need to boost the country's nuclear arsenal and secure "overwhelming military power" to defend its sovereignty and security.
Kim accused Washington and Seoul of carrying out a "plot to isolate and stifle" Pyongyang, calling it "unparalleled in human history."
"He presented the task of developing another intercontinental ballistic missile system with a rapid nuclear counterattack capability as its basic mission," said the North's leader, as quoted by the official KCNA news agency.
Kim's comments came hours after North Korea began 2023 by firing a short-range ballistic missile toward its eastern waters.
South Korea's military detected the launch from the North's capital region around 2:50 a.m. local time Sunday, the Joint Chiefs of Staff said in a statement.
It said the missile traveled about 400 kilometers before falling into the waters between the Korean Peninsula and Japan.
North Korea has upped the volume of its ballistic missile tests in recent months. The country tested dozens of ballistic weapons in 2022, including its first intercontinental ballistic missiles since 2017.
Kim said recently his country's ultimate goal is to possess the world's most powerful nuclear force.
Tensions have been high in recent years, since US-North Korea talks on denuclearization failed.
Former US President Donald Trump tried to reach an agreement with North Korea while in office. Kim and Trump met in Hanoi in 2019 for a summit that left nuclear talks at a standstill.
The pair had met three times since June 2018 but made little progress towards denuclearization.
The Biden administration reached out to North Korea shortly after taking office, but the country did not respond to those overtures.
The Biden administration says it is ready to start talks with North Korea without preconditions, but would pursue working-level negotiations and not the pageantry of another summit.