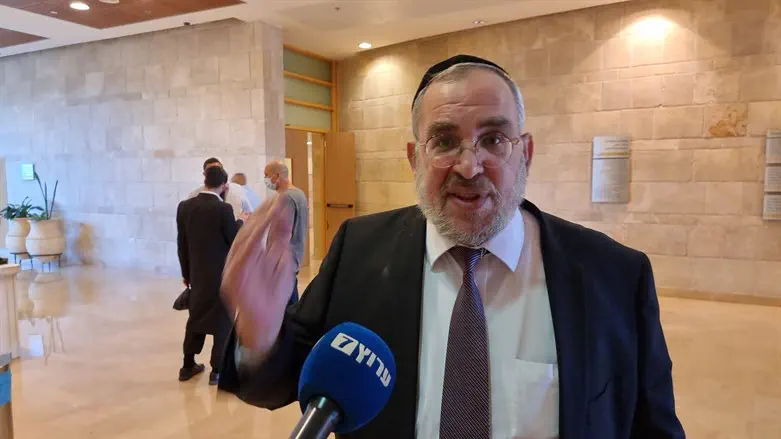 Yaakov Asher
Hezki Baruch
MK Yaakov Asher (United Torah Judaism) believes that the Likud is not seriously considering his party's demands in coalition talks, because the members of UTJ do not issue threats as the other members of the new coalition do.
"In negotiations, by the nature of things, there are crises here and there," MK Asher told Radio Kol Barama on Tuesday. "Perhaps there are not enough efforts to come to an understanding with us because we do not threaten as much. This is not the way to go in our eyes. Perhaps Likud is signaling to us that we should get on a high ledge in order to bring down others who may have gotten on some ledges."
He later noted that "on a number of things we have reached agreements, but there are other things we are waiting for answers on. One thing is clear, on issues related to the Jewishness of the country and the world of the Torah, as well as the equal rights of the haredi public - we will not give up on one bit."
In conclusion, Asher said that "there will be major changes in the issue of housing in the coming term. The entire United Torah Judaism faction will stand behind Rabbi [Yitzhak] Goldknopf as the Minister of Housing who will lead the joint decisions on the issue, and I believe Shas will also be with us. We are talking about explicit decisions and organized plans, so that this time the housing issue will be treated seriously."
Earlier on Tuesday evening, the chairman of Otzma Yehudit, MK Itamar Ben Gvir, opened a new front against Shas chairman Aryeh Deri and announced that his party will not enter the government without the Ministry of the Negev and the Galilee.
In a speech at the plenum, after congratulating Almog Cohen of his party on becoming a Knesset member, Ben Gvir said that "we are committed to take care of the Negev, the Galilee, the social periphery and that's what we will do, and without being able to fulfill what we promised - we simply will not enter the government. It is not for nothing that we insist on the Ministry of the Negev and the Galilee."