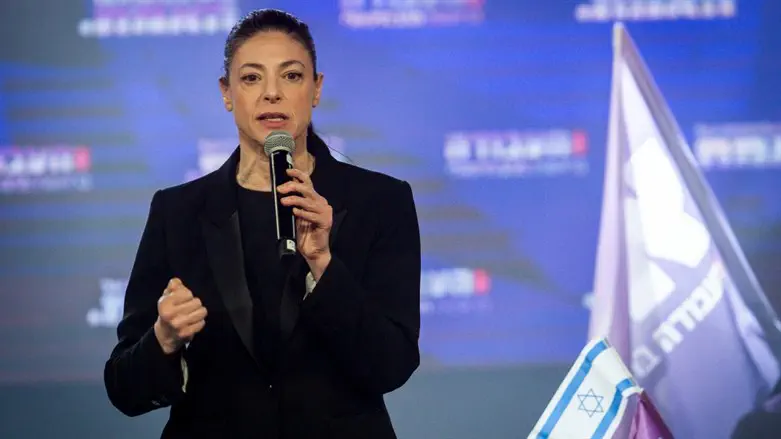 Merav Michaeli
Flash 90
Candidate number 9 on the Religious Zionism-Otzma Yehudit list, Rabbi Amichai Eliyahu, responded today (Sunday) to criticism he received after claiming that Transportation Minister Merav Michaeli "bought a child on Amazon".
Rabbi Eliyahu criticized Michaeli after she inaugurated a new transit line in Haifa on Shabbat. He wrote on his Twitter account: "A woman who bought a child on Amazon will not educate us about tolerance and will not impose her values on us. The people of Israel will continue to respect the Sabbath."
After his statement drew widespread criticism, Eliyahu wrote today: "I find it difficult to accept the hypocrisy and double moral standard of Mrs. Michaeli, who tries time and time again to educate us, who vigorously preached to others against surrogacy on the grounds that it is 'trafficking in women's bodies,' but who abandoned all these principles when it suited her own interests. The hypocrisy screams to heaven."
"As for myself, I support ideological surrogacy for childless couples, surrogacy that does not include the exploitation of weak women who need money, and I pray for them," he wrote. "As in surrogacy, as in peace, Michaeli tries to present a false narrative that looks good in the media, but ends up hurting soldiers, fighters, mothers, or women who have to pay later with their bodies. With regard to Shabbat, the story is the same as we've seen before. The State of Israel is a Jewish state, and the public will make sure she pays dearly for the things she does to hurt it.
As mentioned, the chairman of the Labor Party arrived on Saturday with dozens of party activists to the new metro line in Haifa, 5A, which is to operate on Saturday. Knesset member Naama Lazimi and Labor's Raz Karni also participated in the trip.
Michaeli said that, "Public transportation on Shabbat should not be a war between the religious and the secular [since] there is room for everyone and everything. This line that I rode today makes a certain route on weekdays and another route on Shabbat. On Shabbat, it does not go near religious and haredi neighborhoods, but it does provide service [to others]. It is a worthwhile endeavor, reaching Rambam Hospital, and enabling families of patients visit their loved ones."
According to Minister Michaeli, ''Public transportation on Shabbat allows each and everyone to live according to their personal belief system, and is, above all, the right thing to do from a social, economic, and moral point of view, providing a solution for everyone who does not own a car."