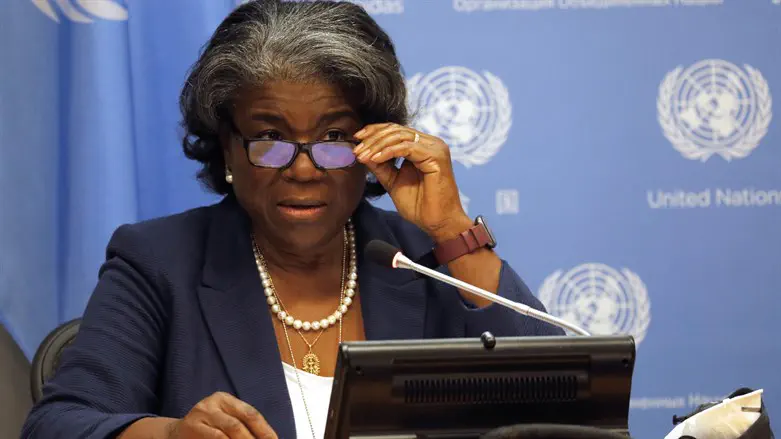 Linda Thomas-Greenfield
REUTERS/Mike Segar
US Ambassador to the UN Linda Thomas-Greenfield on Monday condemned the Islamic Jihad terrorist organization.
Speaking at a UN Security Council briefing on the situation in the Middle East, Thomas-Greenfield welcomed the ceasefire in Gaza that was reached on Sunday.
"We are deeply saddened by reports of civilian casualties and need to swiftly and thoroughly investigate each of them. We should refrain from jumping to conclusions until we can determine the facts. As just one example, Israel was originally blamed for an attack that inflicted civilian casualties in Jabaliya refugee camp. It now appears to have been caused by a Palestinian Islamic Jihad rocket. So let us be sure to follow the facts and see where they lead us," she added.
"We are, of course, also concerned by the humanitarian impact of the recent violence. Residents of Gaza have received less access to electricity at one of the hottest times of the year. Medical facilities and other public services were shuttered. The resumption of fuel deliveries today comes not a moment too soon," said Thomas-Greenfield.
She stressed, "We fully support Israel's right to defend its people against terrorist threats, including from rocket fire aimed at civilians or without regard to them. We also believe that Israelis and Palestinians equally deserve to live in safety and security – and we are working assiduously toward that end."
"But let us be clear: Palestinian Islamic Jihad is a designated terrorist organization in the United States and in many other nations. And it is also an Iranian proxy group, which has conducted attacks against innocent civilians for years. It is telling that Palestinian Islamic Jihad leaders were in Tehran the last several days while the people they claim to be protecting were left in harm's way," the Ambassador noted.
"I would also note that it was the Palestinian Islamic Jihad, not Israel, that held up agreement on a ceasefire designated to save lives and resume shipments into Gaza, callously prolonging these hostilities. We commend Prime Minister Lapid for his leadership, which ultimately prevented further casualties and suffering," she added.
Thomas-Greenfield called on the Security Council to come together and "unconditionally repudiate the terrorism of Palestinian Islamic Jihad, whose reckless actions have put the lives of civilians, on both sides, at risk. Their actions must be condemned by all countries in no uncertain terms. And no country should be expected to tolerate or passively accept such brazen attacks on its civilians."
"Even as this conflict in Gaza brings new lists of families devastated by loss, we recall that two Israeli civilians remain held in Gaza along with the remains of two Israeli soldiers killed in action in a previous conflict. Every family – irrespective of nationality, religion, or creed – deserves to bury their loved ones in a dignified and unimpeded manner," she continued.
"We hope that the ceasefire holds. And we will continue working to prevent further violence. And we all know that the best way to achieve lasting peace is through a comprehensive solution to the Israeli-Palestinian conflict. As President Biden affirmed during his visit to the region in July, the United States remains deeply committed to a two-state solution."
"To that end, we strongly urge all parties to refrain from any unilateral steps that would imperil progress. Building towards a durable solution means refraining from provocative actions, rhetoric, and other measures that would disrupt respect for the historic status quo at holy sites in Jerusalem."
"We call on all Member States to join us in supporting steps that can stabilize the situation on the ground, deliver economic benefits to the Palestinian people, and revitalize political horizons that meets the needs of both Israelis and Palestinians," concluded Thomas-Greenfield .