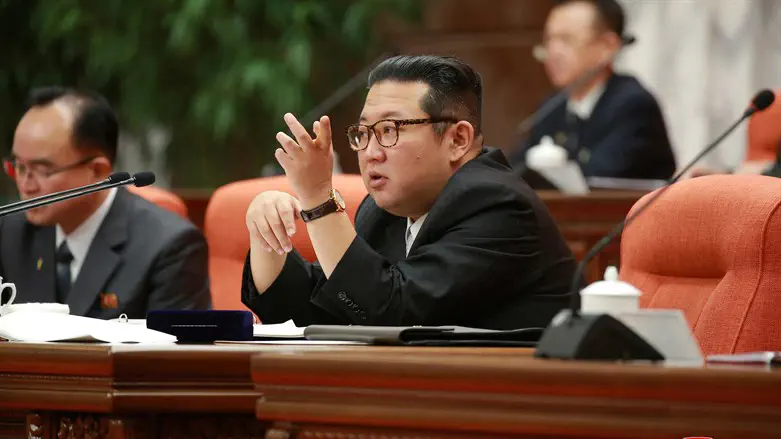 Kim Jong Un
KCNA/via REUTERS
North Korean leader Kim Jong Un said on Wednesday his country is ready to mobilize its nuclear war deterrent and for any military clash with the United States, Reuters reported.
Kim made the remarks during a speech at an event to mark the 69th anniversary of the July 27 Korean War armistice, which left the two Koreas technically still at war, according to North Korea's official KCNA news agency.
Kim also denounced South Korea's Yoon Suk-yeol administration, saying any attempts to preemptively incapacitate the North would be met with a stern response and "annihilation".
"I once again make it clear that North Korea is fully ready for any military confrontation with the United States," Kim stated.
North Korea has conducted more than a dozen weapons tests since January, including the firing an intercontinental ballistic missile at full range for the first time since 2017.
In May, it fired a volley of missiles, including possibly its largest intercontinental ballistic missile.
Earlier this month, Pyongyang fired what appeared to be multiple rocket launchers.
The United States and South Korea have warned of a "swift response" if North Korea conducts a nuclear test, but have also offered talks as a way out.
North Korea has ramped up its missile tests ever since talks with Washington on denuclearization failed.
Former US President Donald Trump tried to reach an agreement with North Korea while in office. Kim and Trump met in Hanoi in 2019 for a summit that left nuclear talks at a standstill.
The pair had met three times since June 2018 but made little progress towards denuclearization.
The Biden administration reached out to North Korea shortly after taking office, but the country did not respond to those overtures.
The Biden administration says it is ready to start talks with North Korea without preconditions, but would pursue working-level negotiations and not the pageantry of another summit.