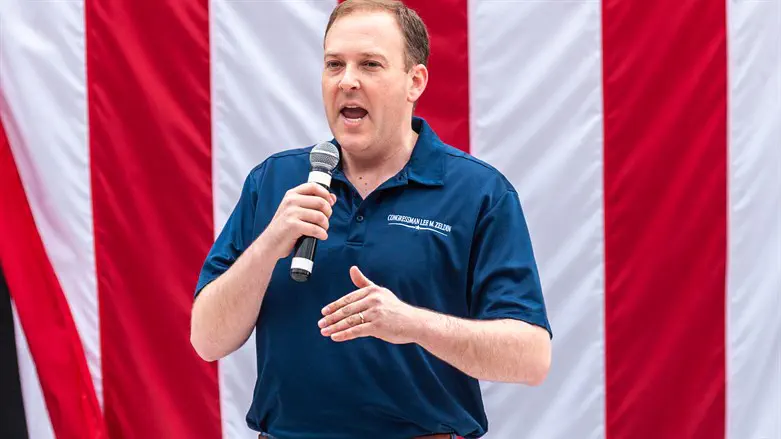 Rep. Lee Zeldin
Reuters
The suspect who allegedly assaulted New York Republican gubernatorial nominee Rep. Lee Zeldin at an Upstate New York campaign event Thursday evening was charged with a felony but immediately released, as the Jewish lawmaker predicted after the attack occurred.
The man was charged but spent only hours in custody and was then released by the Monroe County Sheriff's Department, Fox News reported.
The suspect, David G. Jakubonis, 43, of Fairport, New York, was charged with attempted assault in the second degree.
According to the Monroe County Sheriff's Department, he was arraigned in Perinton Town Court but released the same evening on his own recognizance.
Zeldin had predicted that his alleged attacker would not be held in jail and would be released.
"His words as he tried to stab me a few hours ago were 'you're done', but several attendees, including [lieutenant governor candidate Alison Esposito, running alongside Zeldin] , quickly jumped into action & tackled the guy," Zeldin tweeted on Friday. "Law enforcement was on the scene within minutes. The attacker will likely be instantly released under NY's laws."
The attack occurred as Zeldin was speaking at a Veterans of Foreign Wars post in Fairport, a village just outside of Rochester.
The attacker was subdued by members of the audience after he charged Zeldin, WHEC-TV reported.
That NBC affiliate reported that audience members disarmed the man, and put him in zip-ties that were pulled from campaign posters.
The suspect allegedly had some kind of bladed instruments, NBC News reported.
Zeldin released a statement after the incident occurred: "Thank you to everyone who reached out following tonight's attack in Fairport. Someone tried to stab me on stage during this evening's rally, but fortunately, I was able to grab his wrist and stop him for a few moments until others tackled him. I'm ok, and [Alison Esposito], and all other attendees are safe. The attacker is in custody. Grateful for the attendees who stepped up quickly to assist and the law enforcement officers who quickly responded. I'm as resolute as ever to do my part to make NY safe again."
Esposito tweeted about the attack, noting the incident highlighted her campaign pledge to combat the surge of crime the state is facing.
"The attack on [Lee Zeldin] at our rally tonight highlights exactly why I'm all in to help him secure our streets. Thankful for the law enforcement officers who responded & all who aided in apprehending the attacker. We are safe & the Zeldin-Esposito ticket won't be deterred."