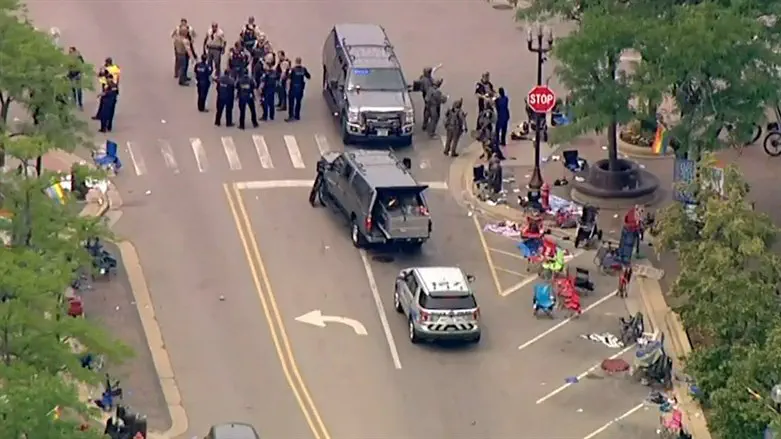 scene of Fourth of July mass shooting
Reuters
A number of Jewish people are among the casualties in a deadly mass shooting which occurred in Highland Park, Illinois during a Fourth of July parade Monday, Israel's Foreign Ministry announced.
The fatalities include at least six people, including reports of an elderly Jewish man who was killed.
Israeli Consul General Yinam Cohen is in contact with the local authorities and the Jewish community in Illinois, the ministry stated.
Prime Minister Yair Lapid offered his condolences to the families of the victims and to those who were injured in the shooting.
"Devastated to hear the news from Highland Park, where a day of celebration became a day of tragedy. My thoughts are with the families of the victims and all the American people," he said. "Today as always, Israel stands with our American friends."
At least five people were killed and 19 others wounded in the shooting. It is unknown if the Jewish casualties are among the dead or wounded at this time.
The shooting occurred shortly after 10 am local time during a parade to celebrate American Independence Day. Footage from the scene shows terrified bystanders fleeing in the opposite direction of the parade following the shooting.
Witnesses reported seeing multiple people lying on the ground bleeding from gunshot wounds. There are unconfirmed reports of at least six fatalities at the scene.
Michla Schanowitz, a co-director of North Suburban Lubavitch Chabad–Central Avenue Synagogue in Highland Park, Illinois, was outside her Chabad Center, in the middle of the 4th of July parade route, when the mass shooting occurred.
Her center was only four blocks from the scene of the shooting. She saw panicked crowds running toward her when it occurred.
Chabad had a table set up outside offering parade attendees the chance to put on tefillin or receive a Shabbat candle kit. The table was staffed by rabbinical students.
The Lake County Sheriff's Office confirmed that a shooting had taken place at the parade and urged people to avoid the area.
Police are still searching for the suspect in the shooting.