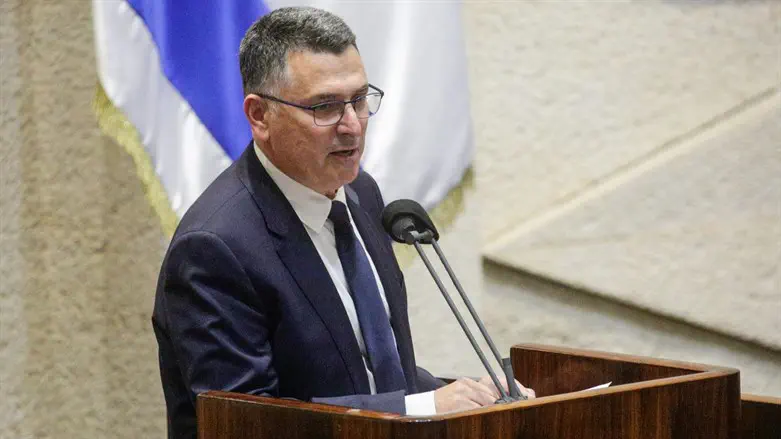 Gideon Sa'ar
Shalev Shalom/TPS
Justice Minister Gideon Sa'ar on Saturday night commented on the construction freeze in Judea and Samaria and sent an implicit message to his partner in the government, Defense Minister Benny Gantz.
"They are right about one thing, that a meeting of the Supreme Planning Council in Judea and Samaria must be scheduled," Sa'ar said in an interview with Channel 12 News in response to claims by members of the Yesha Council that there has been a drop in approval of housing units in Judea and Samaria.
"I will fight for it to happen, and I have had a number of talks about it with Minister Gantz, and I believe this will happen soon," Sa'ar continued.
He added, "I have good relations with Benny Gantz but I will insist on the issue of settlement in Judea and Samaria. There will be no freeze on settlement in Judea and Samaria in this government and I intend to insist on that. My statement has weight. I have made it."
"Benny Gantz also does not say that he intends to freeze. I hope this matter will be resolved in the coming days. I have said these things to Benny Gantz directly several times, and I hope this will be resolved soon. It is important for settlement but it is important even for the housing issue."
Sa'ar commented on the wave of terrorism taking place under the watch of the current government and, responding to criticism from the opposition about how the government has handled the terror wave, said, "We have a responsibility to deal with this crisis, this wave of terrorism, in the best possible way but let us not attribute the desire for the murder of Jews and terrorism to one government or another."
"I could also take it to the political level. Because the state of the border, the proliferation of illegal weapons in Arab society, the governance problems...all these things are the result of years of neglect. But today I do not want to take it to the political level because we are in a time when our haters are doing these things in order to hurt us, to divide us."
"Homes of terrorists were demolished under this government's watch, and will be demolished as long as, unfortunately, the terrorist attacks continue," Sa'ar stated. "Do you think that we sit with the security people, with the Israel Security Agency and the IDF and tell them, 'This is not right for us?' That's all Fake News."