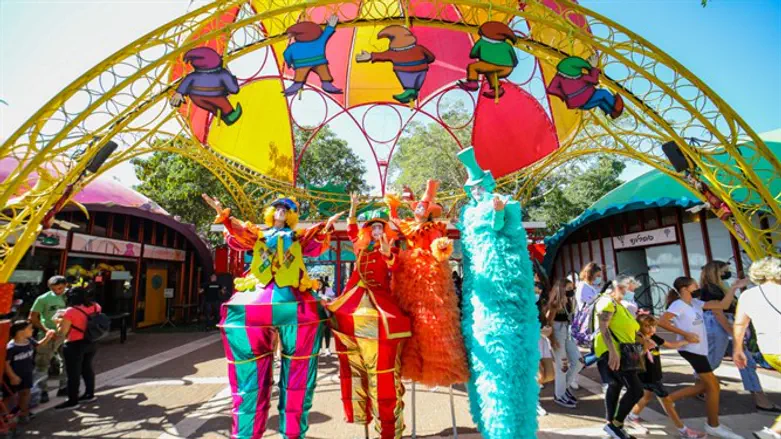 At the bar and bat mitzvah event
MENDY KORNAT
In a scene that coronavirus restrictions would have made impossible only months ago, over 700 boys and girls who had lost a parent to illness or other tragedy celebrated the occasion of their bar and bat mitzvahs in a large-scale event funded by Israel's National Insurance Institute (Bituach Leumi).
The 4000-person event for the bnei mitzvah and their immediate families took place at the Superland amusement park in Rishon Lezion, adapted for the day to serve as "Mitzvahland." Colel Chabad, Israel's longest continuously-running charitable organization since 1788, was chosen to serve as the producing partner for the event on behalf of the Institute's Rehabilitation Branch, which works directly with families who have experienced tragic loss.
The families were all provided with day passes to the park, which was entirely reserved for the gathering, allowing them full access to the wide-range of attractions and rides. With free food and snack stations set up around the park, the special day wrapped up with a concert featuring Israeli pop star Eden Hasson.
A Mitzvah Fair was set up within the park where the boys and girls had the chance to learn about various aspects of Jewish values and craft their own mezuzah cases, wooden candle holders, kiddush cup and other items. Each child went home with their own digital watch presented as a gift to mark the day.
M, a mother of five whose husband died by suicide and was celebrating her son's bar mitzvah said that particularly after the past year and a half of national and personal challenges, the day was that much more welcomed.
"It's so important that these children see that someone is thinking about them and they realize that they deserve some basic happiness after all they've been through," she said.
Meir Spiegler, Director of Bituach Leumi who addressed the crowd before the concert said, "Our goal is to be able to assist and be partners not just in supporting you but as importantly in being a part of your happy occasions. We are happy when you're happy so we should be blessed to be a part of many other happy moments in the future."
"In recent years, our offices all over the country have dedicated much time and effort to help these young people and their families deal with their personal tragedies so it is now such a blessing to be able to see them happy and celebrating," said Carmel Satinger, head of the rehabilitation department of Bituach Leumi.
"While we hope our relationship can be defined by these types of days of joy, we also want these special families to know that we are ready to support them through the variety of services that we are proud to make available."
Ongoing coronavirus restrictions required limiting the number of participants, so two additional fun days are scheduled to take place in the coming weeks; one for several hundred more Jewish boys and girls primarily from the haredi community, as well as a dedicated day for those coming-of-age children from the Israeli-Arab population who have experienced similar loss.
Rabbi Mendy Blau, Israel Director of Colel Chabad, saluted Bituach Leumi saying, "It is a tremendous source of pride to see the great length that our country goes to in order to bring happiness and support to these families. We are honored to be a part of this event and hope it continues to bring joy to the children on this special occasion."
At the event
MENDY KORNAT
At the event
MENDY KORNAT
At the event
MENDY KORNAT