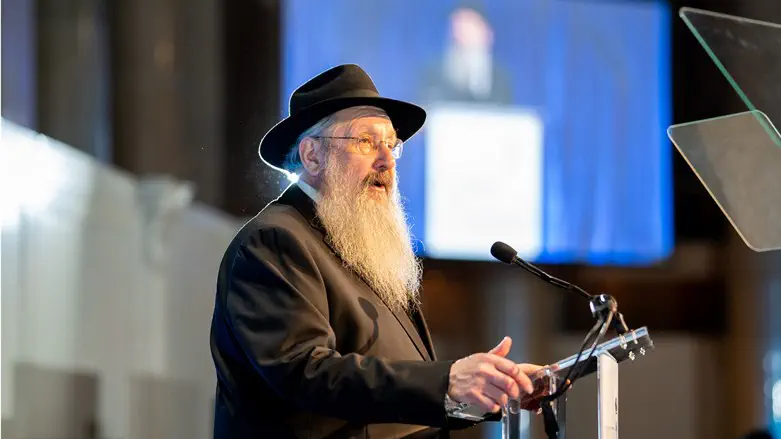 Rabbi Sholom Duchman, Director of Colel Chabad
YISROEL TEITELBAUM
Colel Chabad supporters gathered recently at their annual dinner in New York.
With the exception of the years interrupted by Covid-19, the event has been held annually for nearly four decades and allows friends and supporters to come together to celebrate the organization's centuries of charitable services to the people of Israel.
The dinner, celebrated in the Hakhel year, was attended by over a thousand guests, including Jonathan Goldman, who, together with his wife Ronee, were among the guests of honor. A businessman and supporter of Colel Chabad, Goldman addressed the event with a story about how he viewed his birth as a result of a blessing from the Lubavitcher Rebbe.
Born to parents who had escaped from Iran and settled in New York, Jonathan had two older siblings, but for nine years, his mother and father had prayed for another child. After his 11-year-old brother visited the Rebbe and asked for a blessing, the Rebbe asked what he was hoping for. Jonathan's brother asked to be blessed with a brother, and shortly after, the family was blessed with Jonathan's birth. "I am a child born out of the Rebbe's blessing, but it was only today that I am telling this story," Goldman recalled.
Ronee and Jonathan spoke about the impact of witnessing the annual Colel Chabad Bar Mitzvah celebration for orphan boys in Jerusalem. "Every person remembers the day they got their tefillin," said Ronee. "We thought, coming into this, that we were going to be giving these children something that can last forever. And I think that we left this bar mitzvah as the biggest receivers of them all."
Yael Eckstein, President of IFCJ and supporter of Colel Chabad's work, spoke about the importance of the National Food Security Initiative and Colel Chabad's work among the elderly and needy in Israel. "It's truly historic and an inspiring initiative in so many ways. We sit here today investing in food security because we believe in justice and equality," she said. "This is the magic of Colel Chabad. They take our voice, and our funds and they use them to change the system. The national food security initiative started with a dream and was turned into a government policy."
Rabbi Sholom Duchman, Director of Colel Chabad, highlighted the history of the organization, saying, "Our projects are faithful to our 234-year history, following the road paved for us by the Chabad Rebbe of each generation. Our programs help anyone and everyone in need regardless of age, gender, background, or religious affiliation. It's our duty and responsibility to serve and to help all those who need it."