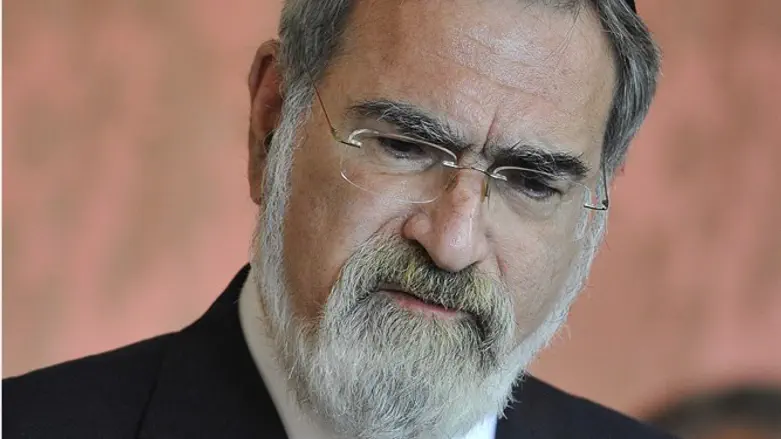 Rabbi Jonathan Sacks
Reuters
Former UK Chief Rabbi Jonathan Henry Sacks, British Orthodox rabbi, philosopher, theologian, and author has passed away.
He served as the Chief Rabbi of the United Hebrew Congregations of the Commonwealth from 1991 to 2013.
As the spiritual head of the United Synagogue, the largest synagogue body in the UK, he was the Chief Rabbi of those Orthodox synagogues, but was not recognized as the religious authority for the Haredi Union of Orthodox Hebrew Congregations or for the progressive movements such as Masorti, Reform and Liberal Judaism.
As Chief Rabbi, Sacks formally carried the title of Av Beit Din (head) of the London Beth Din. He was most recently known as the Emeritus Chief Rabbi.
The official announcement of his passing read: "Baruch Dayan Ha'Emet. It with the deepest sadness that we regret to inform you that Rabbi Lord Jonathan Sacks (HaRav Ya'akov Zvi ben David Arieh z''l) passed away early this morning, Saturday 7th November 2020 (Shabbat Kodesh 20th MarCheshvan 5781)."
Ohr Torah Stone President & Rosh HaYeshiva Rabbi Kenneth Brander responded to news of the passing: "Baruch Dayan HaEmet. The Jewish People and the world have lost great light and leader with the passing of HaRav Lord Jonathan Sacks.
"We are all his students! His legacy will continue through all of us who he inspired. May his family be comforted amongst the mourners of Zion & Jerusalem."
Upon hearing the passing of Rabbi Sacks, Chief Rabbi Pinchas Goldschmidt, president of the Conference of European Rabbis, issued the following statement: "We are truly saddened to hear of the passing of our Associate Vice President, Rabbi Lord Sacks, as we come out of the Sabbath.
"Rabbi Sacks was a giant of World Jewry and will be truly missed. His scholarship and oratory skill were without parallel and he has been an inspiration to an entire generation, no matter their faith.

"We hope his memory will be a blessing to his family and all those who were influenced by him."
Yamina Chairman Naftali Bennett responded to the news: "Today the Jewish world - and the whole world - lost a great light. Rabbi Lord Jonathan Sacks will be remembered and always celebrated as one of the greatest Jewish thinkers and teachers. My thoughts are with his wife Lady Elaine, and all his family. Baruch Dayan HaEmet."
Rabbi David Stav, founder and chair of Tzohar Rabbinical Organization responded to the passing: "The passing of the Rabbi Lord Jonathan Sacks zt"l represents the loss of one of the most unique voices in the Jewish and rabbinical worlds who exemplified an unwavering trust and hope in faith and in Judaism in particular. He was a moral powerhouse for all of humanity.
"He was a close and beloved friend of Tzohar and supported our work in many areas."
UK Chief Rabbi Rabbi Ephraim Mirvis said: "Today the world has lost a Torah luminary and intellectual giant who had a transformative global impact.
"Rabbi Lord Sacks was an extraordinary ambassador for Judaism, helping many to understand and be proud of their heritage. He will be deeply missed, not just within the Jewish world, which benefited immeasurably from his teachings, but far more widely, by all those whose lives he enlightened with his wisdom, profundity and inspiration.
"Our hearts go out to Lady Elaine, Joshua, Dina, Gila and the entire family. May they be comforted by the knowledge that his remarkable legacy will live on in the hearts and minds of the countless people he inspired."
Former Ambassador to the UN Danny Danon said: "This evening, we mourn the tragic departure of an inspirational world leader and giant of our generation, Rabbi Lord Jonathan Sacks. We mourn the loss of a shining beacon whose wisdom and insight illuminated the world. Baruch Dayan HaEmet."