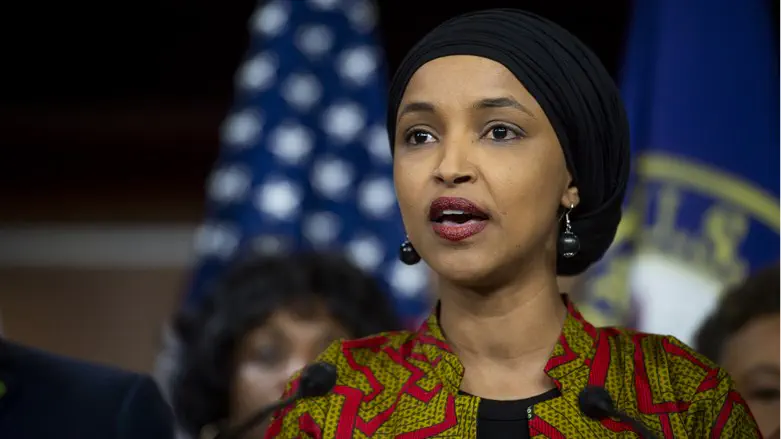 Ilhan Omar
Rod Lamkey - CNP/Sipa USA via Reuters Connect
A group of lawmakers from the Democratic Party on Thursday introduced a bill seeking to block a $320 million arms sale to Israel amid its war with Hamas in Gaza, The Hill reports.
The measure, led by Rep. Ilhan Omar (D-MN), would revoke the export license of a specific type of guided bomb kit approved for sale to Israel months before the Hamas attack on October 7.
The bill is co-sponsored by Reps. Cori Bush (D-MO), Summer Lee (D-PA), Alexandria Ocasio-Cortez (D-NY), Delia Ramirez (D-IL) and Rashida Tlaib (D-MI), all of whom have criticized US support for Israel.
In statement, Omar said that Prime Minister Benjamin Netanyahu "and his far-right ethnonationalist government continue to commit war crimes in their siege of the Gaza Strip."
"From requests to minimize civilian casualties, avoid a ground invasion, avoid reoccupation of Gaza, and institute a meaningful humanitarian pause, Netanyahu continues to thumb his nose at US policy and requests," she charged.
"The United States already provides the Israeli government with $3.8 billion of military aid a year, and holds enormous leverage over their actions. It is the responsibility of Congress to exercise oversight over weapons sales," Omar continued. "That is why we must not allow weapons sales that will be used to directly violate US and international law, human rights, and our own moral standing in the world."
Omar has long been known for her anti-Israel statements, going back to 2019, when she came under fire after she suggested on Twitter that Republicans were attacking her at the behest of the pro-Israel lobby AIPAC.
She subsequently issued a half-hearted apology before ultimately deleting the controversial tweets.
In another incident, Omar shared to Twitter a video of a conversation she had with US Secretary of State Antony Blinken, in which she appeared to compare Israel and the United States to Hamas and the Taliban.
In 2019, Israel announced it would bar entry to Omar and fellow Muslim congresswoman Rashida Tlaib over their support for BDS.
Omar has recently come under fire again for her condemnation of Israel's actions in the war against Hamas.
The congresswoman caused an uproar and was criticized after she retweeted a photo of dead children and claiming that they died as a result of the IAF's bombing of Gaza. The photo was revealed to be a photo of children who died as a result of the Syrian army's nerve gas bombing.
She later was quick to blame Israel for an explosion at a hospital in Gaza which was ultimately proven to have been caused by an Islamic Jihad rocket.