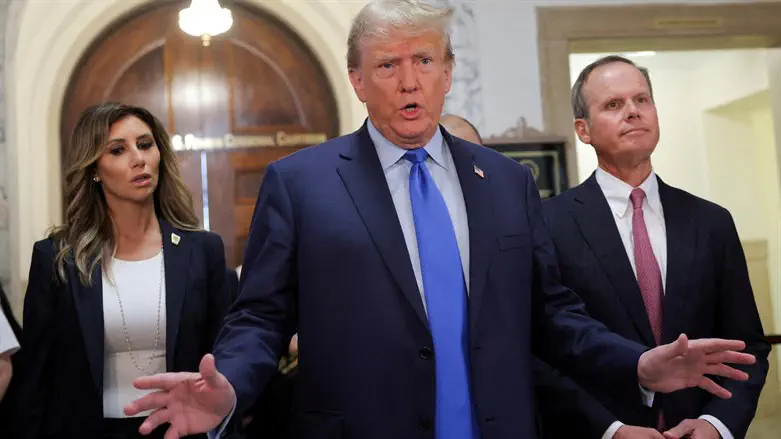 Trump arrives in court
REUTERS/Andrew Kelly
The judge overseeing former US President Donald Trump's civil fraud trial on Tuesday imposed a gag order on Trump and others in the case, after Trump took to social media to lash out at the judge's top law clerk, Reuters reported.
Justice Arthur Engoron of the New York state court in Manhattan told lawyers for Trump and New York Attorney General Letitia James, who brought the fraud case, that such comments aimed at his staff were "unacceptable, inappropriate and will not be tolerated under any circumstances."
The judge forbade both sides from speaking about his staff, and threatened "serious sanctions" if anyone did. The judge did not specify the nature of these sanctions but they could include a finding of contempt of court, which can carry fines and in rare cases jail time.
"Consider this statement a gag order," Engoron added, according to Reuters.
Engoron's comments came after Trump shared a social media post by the clerk, who was identified by name, posing with Senate Majority leader Chuck Schumer of New York, who is not involved in the case. Trump referred to the clerk as "Schumer's girlfriend."
"How disgraceful!" added Trump. "This case should be dismissed immediately!!"
Trump's post was later deleted.
Last week, Engoron ruled that Trump committed fraud for years while building the real estate empire that catapulted him to fame and the White House.
James, who filed the lawsuit in September 2022, is seeking at least $250 million in fines, a permanent ban against Trump and his sons Donald Jr. and Eric from running businesses in New York, and a five-year commercial real estate ban against Trump and the Trump Organization.
Trump on Monday arrived in the court for the first day of the trial.
Outside the courthouse, Trump called the trial a "continuation of the single greatest witch-hunt of all time."
"We have a racist attorney general who is a horror show who ran on the basis that she's going to get Trump before she knew anything about me," he said. "It's a scam, it's a sham."
"Just so you know, my financial statements are phenomenal," he claimed. "There were no defaults, there were no problems. It was like a perfect client."
"The crime was against me because we have a corrupt district attorney, we have a corrupt attorney general, and it all comes down from the DOJ. They're totally coordinating this in Washington because I'm the leading candidate. I'm leading Biden by 10 points, I'm leading the Republicans by 50 or 60 points.", in the courtroom for a second straight day, wore his familiar blue suit, red tie and American flag pin as he sat hunched over a table with his lawyers. Trump told reporters he plans to testify.
On Tuesday, Trump renewed his attacks on James, telling reporters that the Democrat was "grossly incompetent" and had concocted a bogus case.
"Her numbers are fraudulent," Trump said. "She's a fraud."