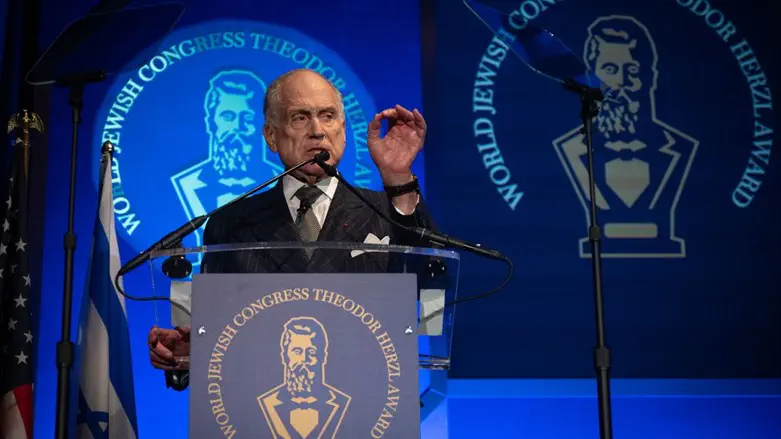 Ronald S. Lauder, World Jewish Congress President
Shahar Azran/WJC
World Jewish Congress President Ronald S. Lauder on Wednesday welcomed the US government's announcement that Israel had been accepted to the Visa Waiver Program.
"I applaud and commend President Biden, Secretary Blinken, Secretary Mayorkas and the entire Biden Administration for its leadership in accomplishing what has long been identified as a major bilateral priority. I also congratulate Israel and commend the successive governments and dedicated civil servants who have worked tirelessly toward Israel's acceptance," Lauder said in a statement.
"Two years ago, President Biden publicly pledged that the US would help Israel in 'fulfilling the requirements' for entry into the program. Today, U.S. officials announced that Israel will become the 41st country to join this coveted program. By virtue of its entry into the program, VWP is strengthening security ties between the US. and Israel. As all Israelis gain access to the program later this year, it will undoubtedly strengthen business ties, expand people-to-people connections and promote cross-cultural understanding."
"Jewish communities across the United States have significant equities at stake, and community leaders nationwide have made their voices heard in support of Israel's bid. As I said back in July, at the signing of the Memorandum of Understanding by Ambassadors Michael Herzog and Thomas Nides, our schools, summer camps, sister city relationships and myriad other cross-cultural programs will benefit immeasurably, as will so many families with relatives in both countries," continued Lauder.
"Israel's entry into the program also includes commitments for reciprocal privileges and equal treatment for all US passport holders, which is also of vital importance, and I urge others to acknowledge the extent of the commitments and changes Israel has enacted, as the US government has done with its announcement today," he concluded.
Earlier on Wednesday, US Secretary of State Antony Blinken and Secretary of Homeland Security Alejandro Mayorkas presented the certificate of approval for Israel's entry into the Visa Waiver Program.
It is estimated that implementation of the process will take a few weeks, and that during November, Israelis will already be able to enter the US without needing to present a visa, as they have been required to do until now.
Earlier in the week, Israel's Foreign Ministry published an announcement praising the exemption, sparking anger in the US State Department over the premature announcement.