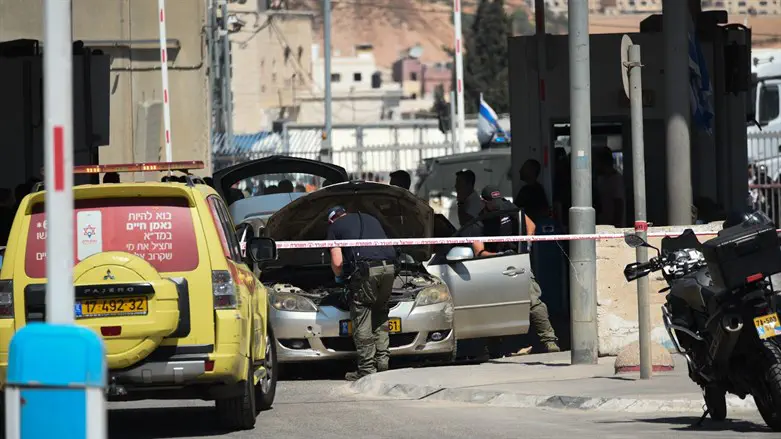 Scene of the Qalandiya Crossing ramming attack
Yoav Dudkevitz / TPS
A security guard suffered light injuries on Thursday afternoon when a terrorist rammed him at the Qalandiya checkpoint near Jerusalem.
Magen David Adom (MDA) treated the security guard and evacuated him to a hospital.
The terrorist has been neutralized.
Initial investigations show that the terrorist is a resident of Kafr 'Aqab and holds an Israeli identity card.
Large numbers of security forces are at the scene.
An initial police statement read: "A short time ago we received a report regarding a civilian security guard who had been rammed at the Qalandiya Crossing. As a result of the ramming, the security guard suffered light injuries (according to medical sources)."
"The suspect in the ramming was arrested at the scene by security forces.
"The circumstances surrounding the incident are under investigation, and at this stage we are investigating whether the incident was a ramming attack. Large numbers of Jerusalem District police forces have been called to the scene."
An MDA spokesperson said, "MDA's 101 Emergency Call Center received a report at 12:25 of a vehicle that attempted to ram a pedestrian by Qalandiya Checkpoint. MDA EMTs and Paramedics are treating a 32 year male in mild condition with lower limb injuries and evacuating him to Shaare Zedek Hospital."
MDA Paramedic David Trachtenberg added, "The patient who was hit by the vehicle was walking near the checkpoint with limb injuries. We provided initial treatment and evacuated him to hospital while he was fully conscious and in mild condition. The terrorist was neutralized by the security forces, and was fully conscious."