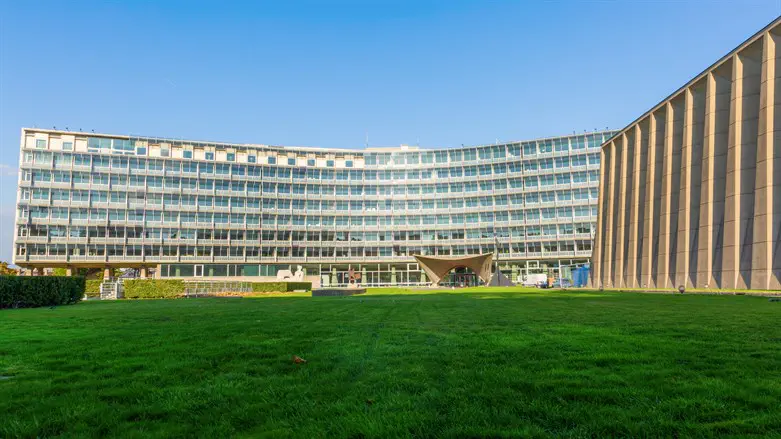 UNESCO headquarters in Paris
iStock
Professor Eugene Kontorovich, director of international law at the Jerusalem-based Kohelet Policy Forum, blasted the UN's cultural agency, UNESCO, after it listed Tel a-Sultan in Jericho as a "Palestinian world heritage site".
"UNESCO today approved a resolution that ethnically cleanses Jews from the history of ancient Jericho - even as the Jews worldwide were busy celebrating Rosh Hashanah, one of the holiest days of the year," said Kontorovich.
"The UN agency voted to recognize a Palestinian Authority proposal to recognize Ancient Jericho as a historic site while completely erasing Jews (and Jesus) from its historical record. In doing so, it also turned a blind eye to the PA's ongoing destruction of Second Temple Era antiquities in the area. The United States had quit the organization six years ago over its chronic antisemitism, and rejoined just a few months ago - obviously a mistake," he added.
The Foreign Ministry was infuriated by UNESCO's decision which, it said, was made despite the many true efforts by UNESCO Director-General Audrey Azoulay.
Officials in the Foreign Ministry said they "see the decision as another sign of the Palestinians' cynical use of UNESCO and the politicization of the organization. Israel will work with its many allies in the organization to change the distorted decisions that were made."
Israel withdrew from UNESCO in 2019, after the US made a similar announcement, over the agency's anti-Israel bias, but remains a party to the World Heritage Convention. The US was recently readmitted to UNESCO after a five-year absence.
Israel had a contentious relationship with UNESCO, which has approved several anti-Israel resolutions in recent years.
In 2018, the UN agency approved a resolution declaring that the Cave of the Patriarchs in Hebron and Rachel's Tomb in Bethlehem are "an integral part of the Occupied Palestinian territory."
Previous resolutions referred to the Jewish state as "the occupying power" in Jerusalem. Another declared the Old City of Hebron as a "Palestinian World Heritage site".
In 2016, UNESCO passed resolutions declaring that Israel has no rights to Jerusalem, and describing the Temple Mount and Old City of Jerusalem as Muslim holy sites.