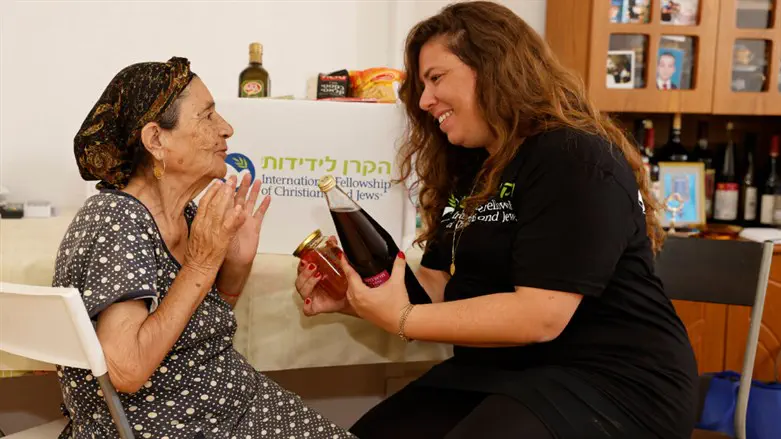 Sibo receives a packge for Rosh Hashanah
Guy Yechiely
As the shops line their shelves and entry displays with apples, honey and all things traditionally used to ring in the High Holiday season, those already grappling with food insecurity and financial instability are in an even more difficult state.
Among the most vulnerable are the elderly, who often find themselves living alone and providing for their later years on a shoestring budget. For these individuals, the High Holidays, the most significant days on the Jewish calendar and a time traditionally spent with family and celebratory meals, have become a stark reminder of their financial challenges.
In a recent survey conducted on behalf of the International Fellowship of Christians and Jews (IFCJ), 43 percent of Israelis answered that this year they will likely have to make significant cuts in their personal expenses to be able to get through the holidays, with 30 percent of Israeli families responding that they would need external support to make even basic food purchases.
The survey came amidst growing concern across Israeli society about inflation, which has a direct impact on the overall cost of living. An overwhelming 61 percent of Israelis said they will need to reduce costs associated with holiday food purchases - a ten percent increase from just two years ago. The survey also found that about a third of the nation's senior citizens described feeling alone and without a suitable support network, with about 25 percent saying they spend up to three days a week at home without any visitors.
In response to the survey and overall assessments by the Fellowship of challenges within Israeli society, the IFCJ announced a 30 million shekel commitment that will be distributed over the course of the holiday period. The funds will be spread out over about 250,000 recipients and include seniors, lone soldiers, new immigrants and many other needy individuals and families. In addition to the support in Israel, the IFCJ announced an allocation of an addition 4.5 million shekel to be distributed across countries in the Former Soviet Union, where more than 50,000 families, many of them living in the war-ravaged regions, will benefit from food deliveries and other forms of assistance.
"What an honor it is, especially during the High Holidays, to represent hope to so many people who otherwise would be hopeless and provide food for hundreds of thousands of people who would otherwise struggle to put food on the table, specifically around the holidays," said Yael Eckstein, President of the IFCJ. "Together with our hundreds of thousands of partners and supporters from all over the world, we are so blessed to be able to do all we can to assist as many people and families as possible."
The Israel-based distribution will be largely in the form of "debit cards" that are reserved exclusively for food purchases. Depending on the level of need, as determined in coordination with local social welfare agencies, the cards vary in value between 250 and 1,000 shekel per recipient. The IFCJ works in partnership with several implementing organizations to manage and oversee the distribution including Colel Chabad, Latet and Yad L'Yad. Where relevant and needed, food packages are delivered to homes of those who might not be able to make purchases themselves or are in need of additional assistance.
Among the beneficiaries of the support is Sibo, 85, who lives in the Sharon region near Tel Aviv who lives alone in a small and dated apartment after moving to Israel from the FSU in 2003. Three years ago she was diagnosed with cancer and has since been heavily dependent on financial and practical assistance from the IFCJ.
"I live on the fourth floor with no elevator so I almost never leave my home," she said. "My health is getting much worse and I really think that's in large part due to all the time I am forced to spend alone after my husband died 17 years ago. Most of my money has to go to pay rent and for medicines and I was very scared that nothing would be left for food for the holiday. I am so grateful to the IFCJ that because of their kindness I will have food on the table and be able to celebrate the holiday with respect and dignity."
The survey, which was performed by Geocartography under the direction of Prof. Avi Dagani and Dr. Rena Dagani, took place over the course of July 2023 amongst 1,104 Israelis aged 18 and above and representing a cross-section of Israel's population. In addition to responses regarding cutbacks in food spending, the survey revealed that nearly half of the households (47 percent) said their economic situation impacted on their use of electrical appliances, heaters and air conditioners.