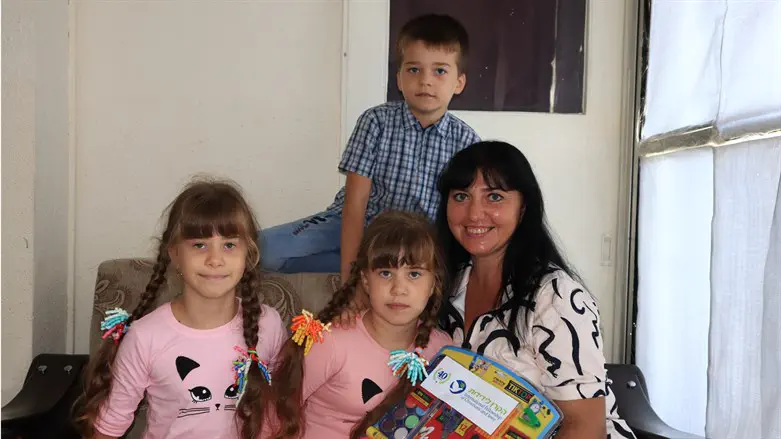 Gleb and family
COURTESY OF IFCJ
Millions of Israeli children are getting ready to go back to school this week, including some who will be starting school for the first time in their new homeland.
Over the course of the past year, through the efforts of the International Fellowship of Christians and Jews (IFCJ), over 5,100 new immigrants have arrived in Israel from 33 countries and the organization estimates that around 850 of those new citizens will be heading to Israeli schools for the first time in the coming days.
"It's always emotional to watch as our children head off to school at the end of the summer but for these new immigrants to Israel its truly the realization of a dream to be able to do so in the Jewish homeland," explains Yael Eckstein, President of IFCJ. "Many of these children are coming from countries where Jewish education wasn't as accessible and this will enable them to grow up and learn in a place where they can be proud of their national history and identity."
In addition to providing financial and practical support to enable these families to leave for new lives in Israel, IFCJ provides additional social and practical tools before and after that will assist them in their acclimation into new communities and educational frameworks.
Among the new students starting first grade is six-year old Glev who fled to Israel from war-torn Ukraine with his mother Yulia and seven-year old twin sisters Daria and Valentina. Yulia, who recently was able to move to an apartment in Petah Tikva big enough for her family says, "The situation in Ukraine continues to be very dangerous and we know that we have nowhere to go back to as our village is in the heart of the war zone. I heard from old neighbors that our house has been destroyed and every day I thank God and the IFCJ that we are blessed to be here in Israel."
She says her son is excited to go into the first grade and that her daughters already feel as if they are life-long Israelis. She says that despite her joy, the family's financial situation remains very challenging and she has been working almost immediately since arriving in Israel and is deeply thankful for the support of the IFCJ. "I can't explain how emotional it is to be able to see my kids smiling and how overjoyed they were when I was able to buy them new school supplies. We are just so thankful to everyone who has been with us and helped us, giving us what we needed."
Six year old Martina Kohel, who moved with her family from Argentina, will also be starting first grade in her new country. "From the day we landed in Israel, we felt at home," says Rolando, Martina's father. "There is no doubt that we are a bit worried because of the language difference and that she doesn't know her teacher or have her friends with her. But we have been learning Hebrew together as a family and that has been a wonderful experience for us. The IFCJ has helped us a lot in our aliya to Israel and in getting our children ready to begin the new school year in their new home."
Additional school support for the new olim is part of an IFCJ program providing "debit cards" of 300 shekel each that can be used in the Kravitz chain of office supply stores. Over 12,000 families received the cards. "Every kid deserves to feel special on the first day of school, and we know this must be no less true for families facing all sorts of social and financial challenges," says Eckstein.