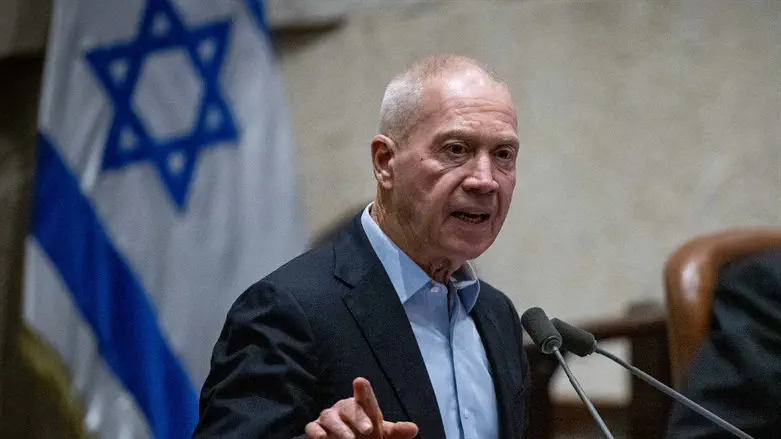 Yoav Gallant
Yonatan Sindel/Flash 90
Defense Minister Yoav Gallant on Sunday blasted members of the government who recently made statements against the IDF.
"Recently, elected officials are permitting themselves to make false, baseless and irresponsible statements about the IDF and its commanders," Gallant said in a speech he gave at a ceremony that was held at the Kirya base in Tel Aviv.
"These are outrageous statements that endanger the most important asset that the State of Israel has - the Israel Defense Forces. Our protective tool, of all the citizens of Israel," he added.
Gallant continued, "You, the commanders, the soldiers of the IDF and the members of the security forces who dedicate your lives to the security of the country and the protection of its citizens, deserve all the support, and those who try to discredit you deserve every condemnation. The IDF is the people's army, the place of service for soldiers from all walks of life. Without the IDF, it is impossible to sustain the State of Israel, in the hostile environment in which we live."
"As the Minister of Defense, I undertake to protect the State of Israel and the IDF and its commanders. This is how I have acted throughout my life and this is how I will continue to act. The IDF was and still is the heart of Israeli society. It is where the members of all sectors of society meet, where everyone is given an equal and real opportunity - to prove their abilities, to break forward, to excel and succeed," he said.
In conclusion, Gallant said, "This is the place to express appreciation to the IDF and to its head, the Chief of Staff, Major General Herzi Halevi, and the General Staff under his leadership for meeting the security tasks, for dealing resolutely with the social challenges affecting the IDF and for the fact that this year as in the past, the IDF has made available to the State of Israel the best people, in essential positions. Even in these days - and perhaps especially in days like these - it is important that we preserve the IDF as such, and leave it above and beyond any dispute, as we have no other army to lean on."