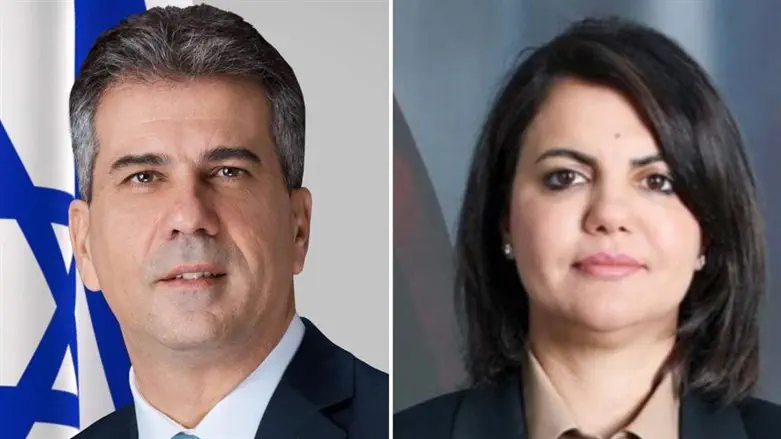 Foreign Minister Eli Cohen with the Lybian Minister Najla El Mangoush
Press Release
Prime Minister Netanyahu knew about the meeting of Foreign Minister Eli Cohen with his Libyan counterpart even before it took place. This was confirmed by two sources close to the Prime Minister to Channel 12 News.
Alongside Netanyahu, the Cabinet Secretary and the National Security Council were also informed about the meeting.
This morning (Tuesday) Netanyahu instructed all government ministries to approve in advance any secret political meeting with his office. According to the guidelines, any publication of a secret meeting will now require the personal approval of the Prime Minister.
The publication of the meeting led to the decision of the Libyan Prime Minister to fire Minister Najla El Mangoush even though he was apparently the one who approved the holding of the meeting. The minister fled the country in a private plane after it was decided to call her in for questioning.
The minister responded to the incident and emphasized that the meeting was held with the authorization of Prime Minister Abdul Hamid Dbeibah, who, in a meeting with his Italian counterpart, agreed on the holding of the meeting between the Israeli minister and her.
"The meeting with the Israeli Foreign Minister was with the approval of Prime Minister Abdul Hamid Dbeibah. The Italian government promised Dbeibah to operate the Rome-Tripoli line at the beginning of next month, in exchange for holding the meeting with the Israeli representatives," said a source close to the minister.
It was also stated in the statement that they published that "Dbeibah asked the Libyan foreign minister to publish a statement that the meeting was 'accidental', to ensure that the minister did not 'embarrass him'. After the minister published the statement, Al-Dabiyba suspended her from her position. The foreign minister has many documents and she will not let them make her the scapegoat for the matter she carried out at the request of al-Dabaayba."