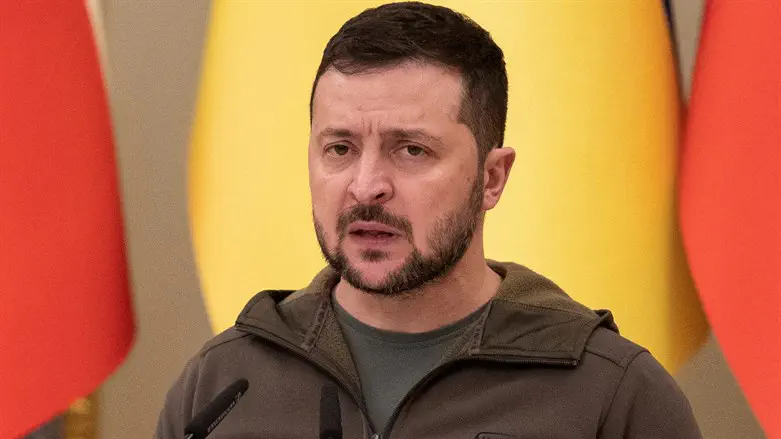 Volodymyr Zelenskyy
REUTERS/Viacheslav Ratynskyi
Ukrainian President Volodymyr Zelenskyy said on Sunday that he believes Ukrainian citizens need to prepare themselves to coexist alongside the conflict with Russia and cited Israel as an example, Haaretz reported.
"Ukraine needs to understand that at one point or another, it may be left alone," Zelenskyy said in an interview with journalist Natalia Mosiychuk, which was published on her YouTube channel. "At some point, an ally might disengage from us due to internal matters or even due to elections," he explained.
"However, we need to learn to live with it, simply learn. Israel is in a war, depending on which war we are talking about. We are prepared for a very prolonged period of fighting without losing people. That's how it can be. To minimize the number of casualties, like in Israel, for example," he continued.
"We can live like that," Zelenskyy continued, though he noted that if the fighting were to shift to Russian territory, it would be a "significant risk" for his country, as it could end up "left alone."
The Ukrainian President also said that he believes Ukraine will receive security guarantees similar to those provided by the United States to Israel.
"With the United States, we will probably receive the Israeli model exactly, which includes weapons, technology, training, funding, and so on," he said.
The interview comes days after the US announced it will start training Ukrainian pilots to fly F-16 jets in October.
US President Joe Biden said earlier this year that he did not believe that Ukraine needed the F-16s, but ultimately changed his mind and informed G7 leaders that the US will support a joint effort with allies and partners to train Ukrainian pilots on F-16s.
Last week, a US official said Washington has approved sending F-16 fighter jets to Ukraine from Denmark and the Netherlands to defend against Russian invaders as soon as pilot training is completed.