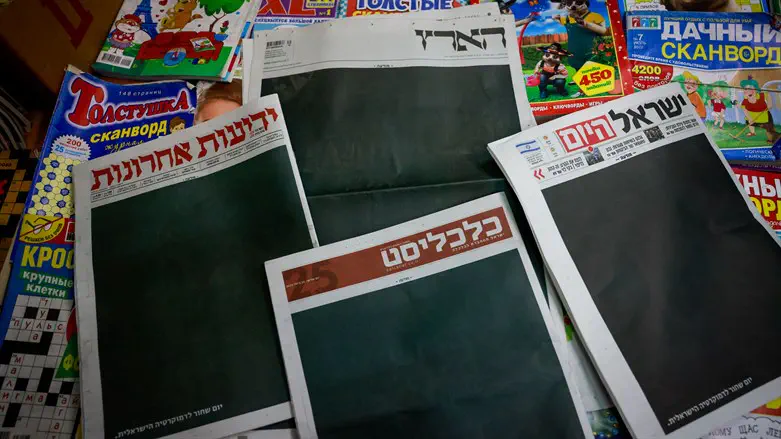 the black page ads
Chaim Goldbeg/Flash90
The Globes newspaper published a message on its front page explaining why it did not sell its front page for use as an ad for today (Tuesday) like many other newspapers in Israel did. The ads which adorned the front pages featured a black page, symbolizing that those purchasing the spaces for large sums of money claim it is a dark day for Israeli democracy in the wake of the passage of the coalition's Reasonableness Standard bill.
"Our cover is not for sale. We have not sold the Globes cover before today and we will not sell it now either. Not to politicians, not to protest movements, and not to commercial parties. Not to the right, not to the left, not to the center," the cover page reads.
"With us, you will get facts. Data. A whistleblower, an analysis of reality. Even, especially, when it is complex. Reality is not black and white. Journalism is not black and white. And our journalism is not for sale," it concluded.
This morning, a campaign against the judicial reforms was published in most newspapers in Israel in the form of a black front page with the caption: "A black day for democracy in Israel."
Journalist Aryeh Ehrlich responded: "In contrast to the many authentic scenes of pain seen yesterday and in recent weeks, the step of buying full coverage in all newspapers in the State boomerangs against. It stinks of money and artificial PR."