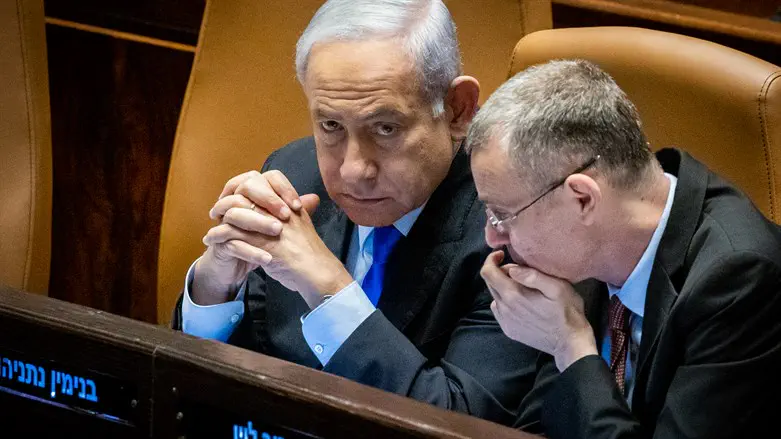 Benjamin Netanyahu (L) and Yariv Levin (R)
Yonatan Sindel/Flash90
Senior sources in Israel's coalition have clarified that "efforts to achieve an agreement on the legislation will continue until the last moment, and lacking an agreement the legislation will pass as planned."
The coalition sources said, "The position of the government and the coalition is clear: The greatest harm to security and democracy in Israel is subjugating the government and the Knesset to dictations by military units."
Meanwhile, Defense Minister Yoav Gallant (Likud) has said that he is doing everything he can to delay the legislation, following announcements by hundreds of pilots and Air Force staff that they will cease volunteering if the reasonableness standard passes.
The "Kaplan Force," who are among the organizers of the anti-government protests, responded to the sources' statements, saying, "The Israeli government is executing a full dictatorial revolution. Facing this, the nation rises, and begins to go. Students and doctors, economists and mothers. The entire nation of Israel from the Gome Junction (in the Galilee ed.) to Eilat, unprecedented opposition."
"We are not talking about a military revolution but about the will of the people. The outrageous incitement by the government will not help it, Israel will not become a dictatorship, thanks to the entire people of Israel."