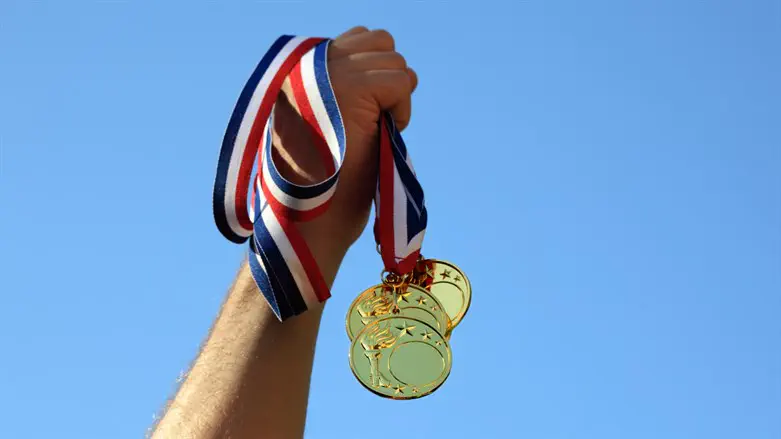 Gold Medals (stock)
ISTOCK
Young Israeli sprinter Blessing Afrifah won a gold medal at the European Athletics Championships in the 200 meter race with a time of 20.67 seconds.
The 19-year-old Israeli sprinter, who advanced to the final from first place with a result of 21.14 seconds in the semi-final, had a great start to the final leg of the European Under-23 Athletics Championship and although he had difficulty in the last stretch, he managed to get ahead of his rival Rafael Bojo in the second leg and finished the final run first.
Although he was the first Israeli sprinter to win a gold medal at the event,he was unable to improve his personal record of 19.96 seconds, an Israeli record. He also clocked a longer time than his qualifying run of 20.65 seconds which he set yesterday.
Blessing Afrifah was marked at the beginning of the competition as one of the favorites to win the gold medal.
In doing so, Afrifa adds a very respectable title to himself, after being crowned World Youth Champion at this distance in the summer of 2022 and with a gold medal makes history for himself and for Israel in general at the European Athletics Championships.
In fact, this is Israel's third medal in this competition, with the previous ones being a silver medal by Dima Kreuter in the 2015 high jump, and a silver medal by Tedesa Gethon, in the 10 km run in 2019.
This is not the only gold medal won by an Israeli athlete today, as windsurfer Sharon Kantor also lived up to expectations and picked up a gold medal in the pre-Olympic competition in Marseille, France.
The 20-year-old Kantor, who just two months ago won the silver medal in the European Windsurfing Championship, also qualified for her final from first place in the preliminary round and led from the second buoy in the final. This qualifies her for next year's Olympic surfing competitions.