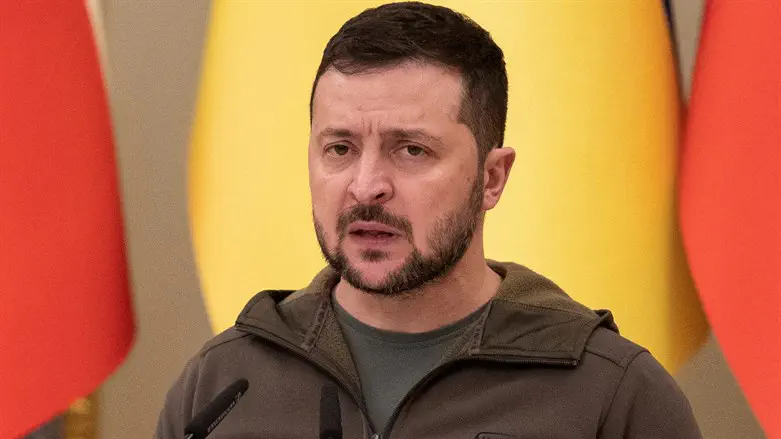 Volodymyr Zelenskyy
REUTERS/Viacheslav Ratynskyi
Ukrainian President Volodymyr Zelenskyy on Tuesday told his French counterpart Emmanuel Macron that Russia was planning "dangerous provocations" at the Moscow-occupied Zaporizhzhia nuclear power plant, AFP reports.
Zelenskyy's statement came after Kyiv and Moscow traded accusations of preparing an incident at the plant, which is Europe's largest.
"I warned Emmanuel Macron that the occupation troops are preparing dangerous provocations at the Zaporizhzhia plant," Zelenskyy said in a statement after a phone call with his French counterpart.
"We agreed to keep the situation under maximum control together with the IAEA (International Atomic Energy Agency)," he added.
In an evening address, Zelenskyy said Russia had "installed objects similar to explosives" on the plant, according to Ukrainian intelligence.
"Perhaps to simulate the hit on the plant. Maybe they have some other scenario. But in any case, the world sees it," he said, before warning, "Radiation is a threat to everyone in the world."
The Zaporizhzhia complex has been occupied by Russian forces and operated by Ukrainian workers since the early days of the war.
Russia and Ukraine have accused each other of shelling the nuclear installation, sparking fears of a nuclear accident.
The claim about the explosives was earlier made by the Ukrainian army, which warned of the "possible preparation of a provocation on the territory of the Zaporizhzhia power plant in the near future".
In Moscow, meanwhile, an advisor to Russia's Rosatom nuclear agency, Renat Karchaa, accused Kyiv of planning an attack on the plant.
"Today, we got information that I am authorized to announce... On July 5, literally at night, in the dark, the Ukrainian army will try to attack the Zaporizhzhia nuclear power plant," Karchaa was quoted as having told Russian state television.
He claimed that Ukraine planned to use "high-precision, long-range weapons" as well as drones.