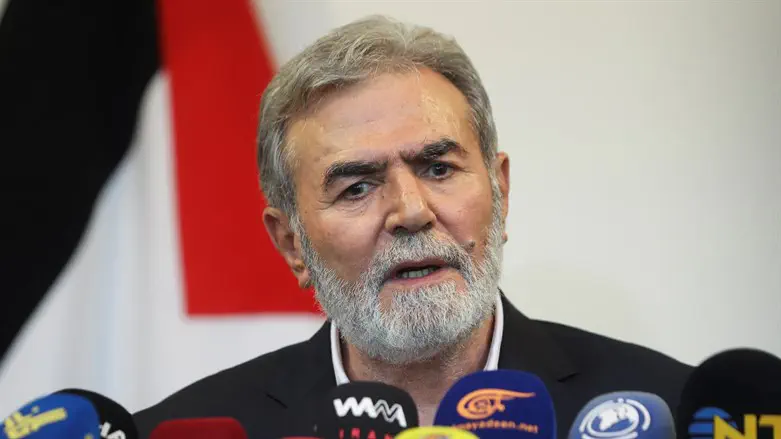 Palestinian Islamic Jihad Secretary-General Ziyad Nakhaleh at a news conference in Tehran
Majid Asgaripour/WANA (West Asia News Agency) via REUTERS
Islamic Jihad Secretary-General Ziyad al-Nakhalah has confirmed that his terror organization is working to increase its hold in Judea and Samaria, and that it is working to provide Fatah members with weapons as well, Israel Hayom reported.
These efforts, which include arming members of rival factions, are by the instruction of Iran, al-Nakhalah added.
During a visit by Islamic Jihad leaders to Iran, Iranian Supreme Leader Ali Khamenei emphasized the importance of "arming the West Bank and developing the actions of resistance in it."
"Actions have been performed and plans have been consolidated in order to arm the Bank and create a change in direction regarding everything connected to the Palestinian situation, by means of weapons smuggling or even purchasing weapons from within Israel. What is important is that there was a focus on how to bring the West Bank from a situation of calm to a situation of resistance, as we see today, and this fits perfectly well with the instructions of the [Supreme] Leader," al-Nakhalah told the Iranian newspaper Alwafak.
"We support the resistance, we created battalions of fighters and military organizations in all of the Palestinian cities in the West Bank. Their scope and abilities change from place to place. We have experts in the field to create means of fighting, we are providing great and continuous aid to the fighters on the ground. We are convinced that one day Israel's existence will come to an end. If we are weak, it could happen in another 100 years maybe, and if we are strong, it could happen maybe within twenty years."
Al-Nakhalah added, "Within Fatah there are parts who oppose the [Palestinian] Authority, and we decided to show openness to these groups and we have even seen benefit from this. We have provided them with aid in weapons, and their presence helped to expand the resistance."
"There are those who think that Iran gives hundreds of millions to the Palestinian nation every month, and I am saying that with less means than this, the ability of resistance in Palestine has been built," he said.
When asked about the joint command room shared by the terror groups in Gaza, al-Nakhalah said, "The war room's purpose is to coordinate between the forces of resistance in the field, and to follow the fighting on the ground, and it does not serve as a command and control center as people are accustomed to exaggerate and think."
Regarding the warming of relations between Iran and Saudi Arabia, he said, "This has a positive influence on the area. There are those who benefited from the atmosphere as it was before and tried to say that the disagreements between Iran and Saudi Arabia are connected to the differences in religious streams (Shiite vs Sunni). The Israeli discourse and Western media all tried to claim this and use it, while the disagreements were on other issues, in which external influences and interests were involved."