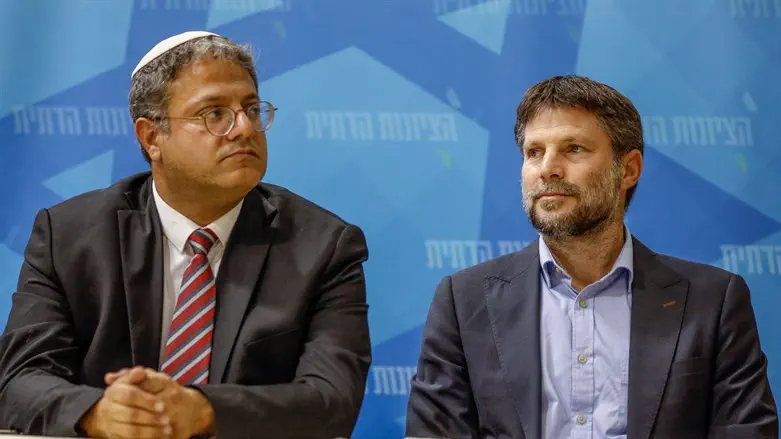 Itamar Ben-Gvir and Bezalel Smotrich
Flash90
The United States Embassy in Jerusalem did not invite Finance Minister Bezalel Smotrich and National Security Minister to its US Independence Day celebration to be held in the Holy City on July 3rd.
According to a report by Haaretz, the embassy is withholding invitations from all members of the Religious Zionism, Otzma Yehudit, and Noam parties. The decision not to invite the lawmakers to the celebration continues the Biden administration's undeclared policy to snub the parties, which make up over 20% of the current Israeli government, and were democratically elected by more than 500,000 Israelis.
The embassy responded to the report stating that only government officials who work with them were invited to the event. "The guestlist for the event includes those who have close work ties with the embassy. We are prohibited from publishing the guestlist for security reasons," the statement read.
Among those to be invited, according to the report, are Prime Minister Netanyahu, Defense Minister Gallant, Minister of Economy and Industry Nir Barkat, the heads of the opposition parties, including Yair Lapid (Yesh Atid), Benny Gantz (National Unity), Merav Michaeli (Labor), and Avigdor Liberman (Yisrael Beytenu), and several additional MKs.