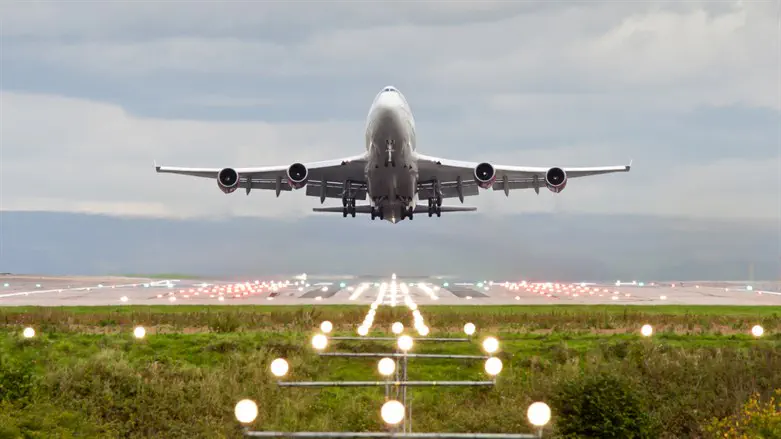 Takeoff (illustrative)
iStock
A new flight route was launched Thursday morning between Haifa Airport in Israel and Larnaca and Paphos in Cyprus.
The route is operated by means of narrow-bodied jet aircraft from Air Malta, and is marketed by Issta and Israir. At this stage, there will be three round-trip fights daily - two to Larnaca, and one to Paphos.
The Haifa Airport was founded by the British in 1934 and served as Israel's first international airport. Over the years, most of the international air travel moved to the Lod Airport, which was later renamed "Ben Gurion International Airport." However, for most of this time there was still international air travel from Haifa as well, especially to nearby destinations such as Egypt, Jordan, and Cyprus, which is just a 50-minute flight away.
The Haifa Airport's activity is limited by the length of its runway, which currently does not allow large planes to land. Plans to extend the runway are often examined, but face difficulties due to a lack of space and the many needs along the Haifa Gulf coastline, including civilian ports, a Navy port, Israeli shipyards, and so on.
Transportation Minister Miri Regev (Likud) said, "Connecting the North and South to the center of the country is, for me, a strategic social and economic goal of the highest order. I praise the Haifa Airport's return to activity, with the opening of a regular flight route to Cyprus. There is no reason that residents of Haifa and northern Israel should need to travel to Ben Gurion for every short trip for vacation or business."
"I call on additional European airlines to operate direct flights to Haifa, for the benefit of the residents of northern Israel, as well for that of tourists interested in reaching the many tourist attractions which are in northern Israel."