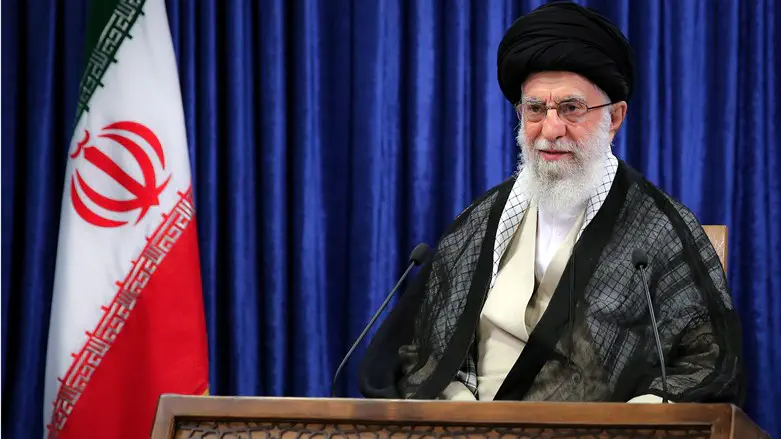 Ayatollah Ali Khamenei
Reuters
Iran's supreme leader Ayatollah Ali Khamenei said on Sunday that a deal with the West over the regime's nuclear program is possible if the country's nuclear infrastructure remains intact, Reuters reported.
Months of indirect talks between Tehran and Washington to salvage the nuclear accord with six major powers have stalled since September, with both sides accusing each other of making unreasonable demands.
According to Iranian state media, the Supreme Leader stated: "There is nothing wrong with the agreement (with the West), but the infrastructure of our nuclear industry should not be touched."
Khamenei repeated the claim that the Islamic Republic has never sought to build a nuclear bomb but added that if it did want to obtain one, no one could stop it.
"Accusations about Tehran seeking nuclear weapons is a lie, and they know it. We do not want nuclear arms because of our religious beliefs. Otherwise, they (the West) would not have been able to stop it," Khamenei said.
Khamenei said the country's nuclear authorities should continue working with the UN nuclear watchdog "under the framework of safeguards."
However, Khamenei called on Iranian authorities not to yield to the International Atomic Energy Agency's (IAEA) "excessive and false demands," adding that a law passed by Iran's hardline parliament in 2020 had to be respected.
Under the law, Tehran would suspend IAEA inspections of its nuclear sites and step up uranium enrichment if sanctions are not lifted.
"This is a good law ... which must be respected and not violated in providing access and information (to the IAEA)," Khamenei said.
A State Department spokesperson declined specific comment on Khamenei's remarks, reiterating the Biden administration stance that the United States "is committed to never allowing Iran to acquire a nuclear weapon."
"We believe diplomacy is the best way to achieve that goal on a verifiable and durable basis, but the President has also been clear that we have not removed any option from the table," he said, alluding to the possibility of military action.
"We will not characterize the nature of an Iranian leader's remarks," the spokesperson added.