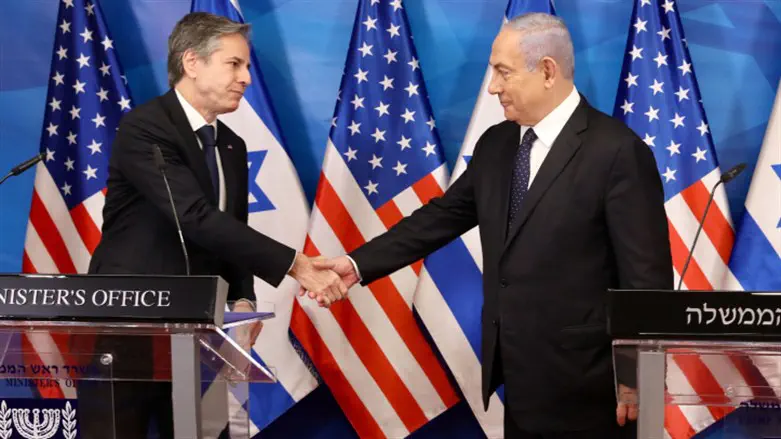 Antony Blinken and Benjamin Netanyahu
Marc Israel Sellem/POOL
US Secretary of State Antony Blinken on Thursday tweeted about his conversation with Prime Minister Benjamin Netanyahu.
"Spoke with Israeli Prime Minister Netanyahu today on areas of mutual interest, including Israel's further integration into the region, the threat posed by Iran, and other issues," he wrote.
In a statement issued after the conversation, State Department spokesperson Matthew Miller said the two "discussed areas of mutual interest, including expanding and deepening Israel's integration into the Middle East through normalization with countries in the region."
"The Secretary discussed the need to uphold the commitments made at regional meetings in Aqaba and Sharm El Sheikh to avoid measures that undermine the prospects for a two-state solution. He also discussed broader regional challenges, such as the threat posed by Iran, and underscored the United States' ironclad commitment to Israel's security and our 75-year-old partnership," added Miller.
The Prime Minister's Office said in a statement earlier on Thursday that, during the conversation with Blinken, "Netanyahu reiterated his consistent position that returning to the nuclear agreement with Iran won't stop the Iranian nuclear program and that no arrangement with Iran will obligate Israel, which will do everything to defend itself."
The conversation came amid reports that the US is seeking to reach an interim nuclear agreement with Iran.
Axios reported last month that the Biden administration discussed with its European and Israeli partners a possible proposal for an interim agreement with Iran that would include some sanctions relief in exchange for Tehran freezing parts of its nuclear program.
President Joe Biden has long sought to revive the deal, but those efforts have been stalled since September.
At that time, Iran submitted a response to a European Union proposal to revive the deal. A senior Biden administration official said the Iranian response "is not at all encouraging." A US official later said that the efforts to revive the 2015 Iran nuclear deal have "hit a wall" because of Iran's insistence on the closure of the UN nuclear watchdog's investigations.