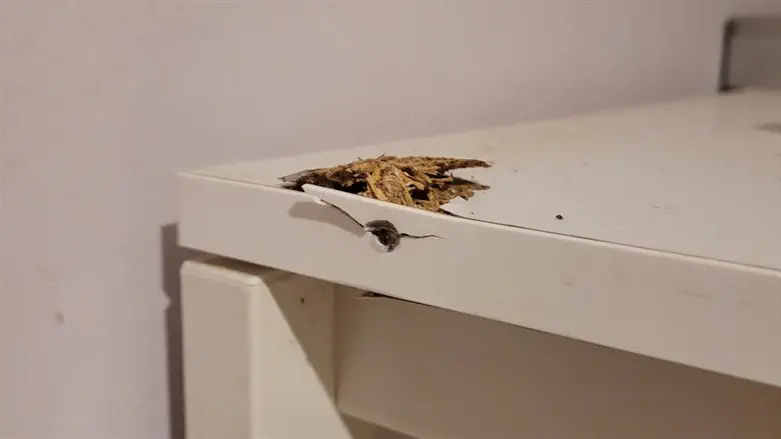 Ofra Lax's bedside table that was hit by the bullet
Self
Journalist Ofra Lax, a resident of the Neve Zayit neighborhood in the Jewish and Arab populated city of Lod, in an interview with Radio 103 FM on Thursday morning, recounted the terrifying moments she experienced when a stray bullet entered her home and hit her bedside table Wednesday night.
"All night, there was gunfire. I was in bed, and suddenly I heard a burst of fire that sounded closer, but it didn't sound like it was on my street. Immediately after that, I heard a whistle and a small explosion. Much later, I understood that I heard the whistle of the bullet."
She added, "I saw pieces of wood on myself. Next to my bed there is a wooden table. I called my husband to help me understand where the pieces of wood came from, and he looked and saw that the table had a hole from a bullet that would seem to have passed very close to me.
We looked for where the bullet entered, we looked a the window and saw that the blinds had a hole in them. We called the police and asked the officers what to do, and the officer answered, 'Make a thanksgiving feast.' After the police left, we started moving things, and we found a relatively large bullet. I said the Gomel (gratitude) blessing at the synagogue and still don't understand how the bullet missed me." she said.
According to her, "The police arrested 13 people, and if they have not been released already, then tomorrow rest assured they will be released. That's the summary of our story. Anyone who lives here in the city is in danger".
As reported, Ofra Lax, a resident of the city of Lod and a writer with the Besheva newspaper, miraculously survived after a bullet was fired into the bedroom of her home.
"A great miracle happened to me tonight. I decided to go to bed early—in bed by 10:00 p.m. The city is indeed shaking from gunshots, but I try to ignore it," she wrote.
"Final WhatsApp messages, then suddenly a relatively close burst of gunfire, an explosion and... I see small bits of wood on me. I am suspicious. I call my husband, and he detects a bullet that entered the table next to my bed," she recalled.
After receiving multiple reports of gunfire in the city, National Security Minister Itamar Ben-Gvir notified the police that if the shooting didn't calm down within the following minutes, he intended to come to the city to inspect the situation and demand intensive action to fight the dangerous illegal weapons.
In response, the police sent a large number of officers to the city, made arrests, and restored silence.
A large number of illegal weapons are in the hands of Lod's Arab population, which includes a significant criminal element, and the sound of gunfire in Arab areas of the city is not unusual. This time the shots fired reached a Jewish neighborhood. In May 2021, during Israel's Gazan Operation Guardian of the Walls, hundreds of Arabs rioted in the city, shooting fireworks at police officers, burning a synagogue, torching Jewish owned cars, and trying to set fire to a police station.